A new National Institute of Education is being set up to run courses specifically aimed at helping schools to use the money they pay into the apprenticeship levy, Schools Week can reveal.
Since April, many schools have paid money into the government's apprenticeship levy. Those paying the levy can then claim funding back in order to pay for apprenticeship training for their staff.
However, schools have complained about a lack of available courses, although a teaching apprenticeship is in planning, as revealed by Justine Greening last week.
The NIE will launch today, offering a teaching apprenticeship, a "master teacher" degree apprenticeship and a master's degree apprenticeship for senior leaders. It will also provide a two-year PGCE with qualified teacher status for those entering the profession.
Dave Cobb, chief executive officer of Oceanova which is setting up NIE in conjunction with the University of Buckingham said the plan was in response to the fact private companies will be more likely to draw on the funds if schools are not prepared.
"Barclays are paying £30 million into this levy," said Cobb. "It would be a crime if the banks are well organised and put thousands of people onto management development programmes, and schools miss out on that money."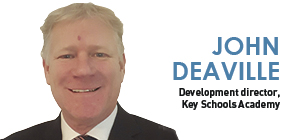 Schools or multi-academy trusts with a wage bill of £3 million or above have been paying the apprenticeship levy since its introduction in April this year – as have grant-maintained schools, through their local authority.
Cobb added: "There's a £3 billion national pot, a £105 million contribution from the schools in this calendar year from April, and we're really worried that schools that haven't got the time to organise around this are going to miss the opportunity to actually spend their levy."
Schools need to "bust through" the 0.7 per cent of their budgets that they are currently spending on professional learning, he said.
"In Kent alone they are without 45 headteachers at the start of this academic year – we need a revolution in leadership learning," he said. "There's too much pressure currently on senior leadership in schools and not enough trickle down."
Members of the team at NIE include Ben Laker, leader of the analytics practice at business management consultancy Transform Performance International, and John Blake, Policy Exchange's head of education and social reform.
The NIE is not the first body to create a new offer this year for school leadership. Two beneficiaries of the government's Teaching and Leadership Innovation Fund are also investigating these areas.
The Institute for Teaching is a partnership between three academy trusts – Ark, Dixons and Oasis – and will be offering masters qualifications for expert teachers in order to tackle the recruitment crisis at challenging schools.
The proposal, first revealed by Schools Week, was described as the largest-ever collaboration between multi-academy trusts on teacher development.
Matt Hood, the institute's director, said the project aims to have a "positive impact on the professional lives of teachers, and on the outcomes of pupils in some of the country's most disadvantaged areas".
Meanwhile the Teacher Development Trust will identify schools to act as "CPD excellence hubs" in Blackpool, Northumberland, Sheffield, Stoke and West Sussex, to improve the way schools design, commission and implement training for teachers.
"There will be members of senior leadership who will be our CPD excellence insiders, who will work with around eight local schools in the most disadvantaged areas, which are currently given an Ofsted rating of 'requires improvement' or 'inadequate'," said David Weston, the trust's chief executive.
"We'll be supporting those schools to change and improve the way that they are developing staff."