The education secretary has visited more than twice as many academies and free schools than maintained ones – and just one special school – in the first four months of his job.
Details of Damian Hinds' visits were released to Schools Week as part of a Freedom of Information request.
Between January and the end of April, Hinds visited 13 mainstream academies and five maintained schools. He also visited one community special school and a pupil referral unit.
Ministers in successive governments have prioritised visits to their favourite types of schools: academies and free schools
Nick Gibb, the schools minister, had the same ratio during this period, visiting eight academies and three maintained schools.
Lord Agnew, the minister for the school system, visited a specialist maths free school sixth-form, a UTC and two academies, but no maintained schools at all.
Only 35 per cent of schools are academies, according to the National Audit Office.
Kevin Courtney, the joint general secretary of the National Education Union, said an "ideological obsession" with academies was in "in danger of skewing ministers' professional duties and responsibilities for all schools".
"It is unacceptable that ministers do not visit all types of schools in equal measure so that they can fully understand the range of the work that goes on and the good practice across all school types," he told Schools Week.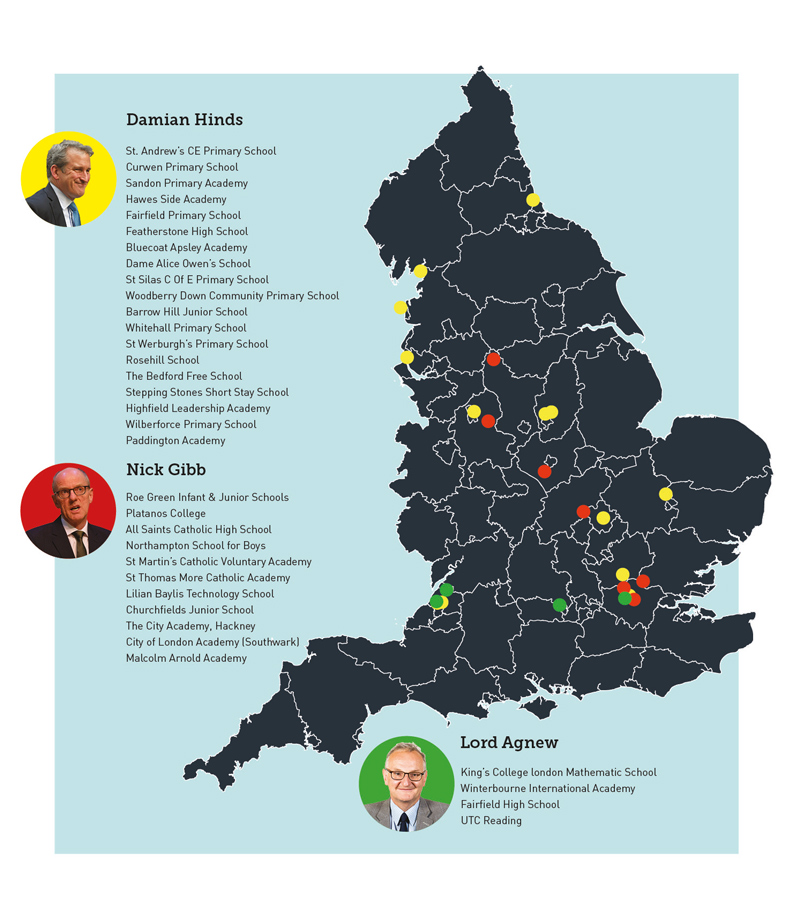 "This is nothing new," added Janet Downs, from the Local Schools Network, which campaigns against academies and in favour of more local oversight of schools.
"Ministers in successive governments have prioritised visits to their favourite types of schools: academies and free schools. Such visits are then used to praise these schools to give the impression they are superior to 'council run' schools.
"But the majority of schools are still under the stewardship of local authorities. It appears ministers have little interest in visiting these."
This trend was set by former education secretary Nicky Morgan who visited twice as many academies as maintained schools in her first year in office.
Geoff Barton, the general secretary of school leaders' union ASCL, wants ministers to visit a "broader range of schools".
"Nothing will be of more use to them than listening to the first-hand experiences of a broad range of school leaders, teachers and students," he continued. "Ministers will be able to see for themselves the brilliant work being done in so many schools as well as the challenges they face".
Most of the 25 academies visited by ministers in the first four months of the year were members of single-academy trusts or very small multi-academy trusts, including Bedford Free School, part of the two-school Advantage Schools trust, which was already visited last year by former education secretary Justine Greening.
A Department for Education spokesperson said Hinds had "repeatedly made clear" his priority is to deliver "world class education, training and care for everyone, whatever their background".
This has been underlined in major announcements on technical education, good school places and better early years education over the past few months, "and any suggestion otherwise is completely false", she said.
Image: Prime Minister Theresa May walks with headteacher Gerry Wadwa and education secretary Damian Hinds during a visit to Featherstone High School in west London in February. Credit: Press Association