Sir David Carter's plan for a tiered hierarchy of academy chains may not be very detailed, but these are the eight academy chains would qualify to be "system leaders".
The new national schools commissioner said he wants to put trusts with 30 or more schools at the top of his new four-tier system, with chains expected to prove they are capable of expanding before moving between tiers.
Sir David (pictured), said these system leaders would play a "broader role" in the academies programme and be accountable directly to him, rather than being assigned to a regional schools commissioner as they currently are.
Watchsted analysis for Schools Week of the Ofsted results of schools inspected since joining the trusts paints a mixed picture, or in some cases, hardly any picture at all.
According to the data – taken from all Ofsted reports available on February 19 – more than 40 per cent of schools run by two of the trusts, Oasis Community Learning and The Kemnal Academy Trust, were rated as requires improvement or inadequate.
More than a third of the schools of Academies Enterprise Trust and School Partnership Trust Academies were rated in those categories.
For several trusts, it is difficult to measure their effectiveness because so few of schools have been inspected since being taken on.
In the case of Plymouth CAST, just one of its 35 schools has been inspected since joining the trust, while 34 of Reach2's 50 schools have yet to be inspected. John Mannix, the chief executive of Plymouth CAST, said that as more reports were released, they were likely to show a "mixed picture", anticipating that some schools rated outstanding when they joined may now be rated lower.
Chains often praised by ministers, such as Ark and Harris, are absent from the list as the latest "open academies" data suggests they have fewer than 30 schools. However, the landscape is rapidly changing with more schools joining chains each week.
Click on the image for a larger version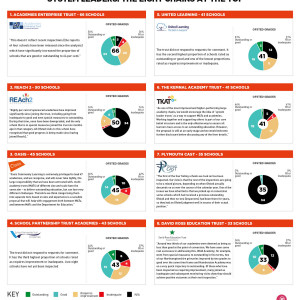 Source: Ofsted/Watchsted/DfE open academies spreadsheet on February 19. Inspections that occurred prior to an academy becoming associated to a sponsor are excluded based upon a Freedom of Information response published last August.