Multi-academy trusts are dodging the recruitment crisis by parachuting teachers into schools that would normally struggle to hire, a new study has found.
The National Foundation for Educational Research (NFER) has today published its latest multi-academy trust (MAT) teacher retention research.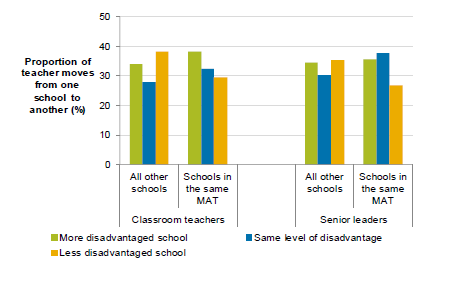 The study, based on School Workforce Census data from 2010-15, found that movement of staff between schools in the same trust is more than ten times higher than movement between schools not in the same academy trust.
Plus, while teachers are more likely to move to a school with a more advantaged intake, when looking just at moves between schools in the same MAT, teachers were more likely to move to a school with a disadvantaged intake (38 per cent), than to a more advantaged one (30 per cent).
Previous studies have found that schools serving lower income communities face greater recruitment difficulties in hiring staff.
The report claims this means MATs have "internal teacher labour markets" that are "somewhat distinct from the teacher labour market in local area".
"Given the flexibility and strategic oversight that MAT leaders have over staff deployment across their schools, MATs may offer an alternative and potentially effective mechanism of deploying staff to schools in challenging areas that struggle to recruit and retain staff."
The report stated the moves could be down to opportunities for career progression across different schools, with trusts developing a "leadership pipeline from within".
Such an approach has been championed by the government, including former education secretary Nicky Morgan who said flexible staff deployment would "give a clear path to career progression that will keep [teachers and leaders] engaged rather than looking for opportunities elsewhere".
However the report found, that teachers were much more likely to move between schools based in geographic clusters (see image below left).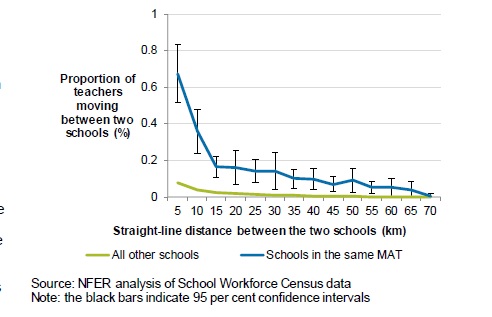 This finding backs up previous research by the Department for Education showing that around 70 per cent of all teachers that moved school between 2010 and 2015 moved to a job within 25 kilometres of their previous one.
The NFER study found that larger trusts with geographically clustered schools have the greatest amount of internal school-to-school movement.
The data, however, doesn't capture informal working arrangements – only permanent moves and secondments.
Jack Worth, report author and a senior economist at NFER said: "MATs are an important and growing feature of the school landscape in England. As the legal employers of all staff in their schools, MAT leaders have the opportunity to redeploy teachers and senior leaders to where they are most needed in their academy trust.
"Our analysis shows that they are making use of these opportunities by encouraging teachers to move within the MAT. It is particularly encouraging to find that teachers are tending to move to schools with more disadvantaged intakes, as these are the schools that tend to find it hardest to hire staff."
Save
Save