Government guidance on getting pupils back to school was updated (again) this week. School leaders say it's another ham-fisted change. Schools Week investigates…
---
Government advice that primaries run classes in nearby secondary schools is a "crazy hand grenade" that does not make up for the lack of a "long-term plan", say frustrated school leaders.
In what has been labelled another sign of the government's incoherent back-to-school plans, primaries were told on Monday they could use space in local secondary schools to get more pupils back.
The advice came after reports in national newspapers that schools have to take more pupils. It was accompanied by surprise guidance allowing secondary schools to bring back pupils from any year group for "check-in" meetings before summer.
Hilary Goldsmith, a school business manager in the south of England, said: "This new crazy hand grenade from the increasingly bizarre DfE advice is quite extraordinary. It seems to suggest that we tear up our risk assessments and make it up as we go along."
The safeguarding risks of the new advice – such as running "swathes of DBS checks to allow unrelated staff to share sites" – made it "unworkable".
Promised 'priority list' ditched as DfE changes tack
Gavin Williamson, the education secretary, told MPs last week that he was working on a "priority list" of children that schools with extra capacity should bring back first.
The new guidance, however, says that pupils from any year group can be welcomed back: it is up to schools to decide.
But primaries should only bring back more pupils where they "do not require additional funding, staff or classrooms to do so".
The guidance adds: "There is no expectation on primary schools to welcome back additional children where they do not have capacity to do so."
If schools have "space on other school sites (for example, local secondary schools, if that is feasible alongside the secondary offer) they may use this, taking care to ensure children stay in allocated groups."
The Department for Education clarified that primaries running classrooms in secondaries would have to use their own teachers, but any further arrangements – such as travel for staff and pupils – would be up to schools or councils.
Jon Chaloner, the chief executive of the 40-academy GLF Schools trust, said the new advice was "an opportunity", but would have been "more helpful" in early May "when our existing plans for June had to be modified".
The National Education Union's "education recovery plan" calls for public buildings, such as libraries and sports halls, to be used for classes so that "social distancing can be achieved".
But the DfE's update advises schools not to use community buildings "while they remain closed in line with the government's roadmap".
Chaloner said: "The main reason that full primary schools will struggle is because of the staffing capacity being used already across the priority groups previously announced on May 10."
At least 200,000 more teachers would be needed to staff classes of 15 across the sector.
Jon Richards, head of education at Unison, told MPs this week: "Where are we going to get the funding for that [extra staff]? There needs to be some work to support that."
Running classes in community buildings is 'red herring'
Leora Cruddas, the chief executive of the Confederation of School Trusts, said the use of community buildings was a "red herring".
"We would spend a lot of time making building fit-for-purpose, but we don't have enough teachers. I'd much rather put the energy into getting all children back in September into their actual school."
Speaking at the daily coronavirus briefing last week, Boris Johnson said the continuing high infection rate had forced the government to drop its ambition to get all primary pupils back to school.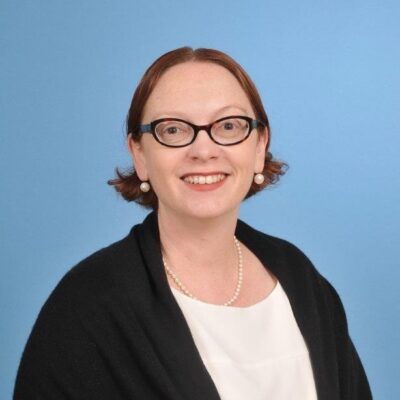 "We've got it right down, but it's not quite down far enough to change the social distancing measures in schools," he said.
Many suspect his plan to get all pupils back is dependent on a low enough infection rate by September for it to be deemed safe enough for full classes.
Cruddas said while the current trajectory on coronavirus cases suggested that was achievable, "what if there is a second spike? We can't have no plan B."
She and other sector leaders have asked that the SAGE group of scientists model scenarios for reopening in September to give school staff confidence in any future plans.
At secondary level the DfE has pushed the message of pupils with exams next year returning before the summer break.
It appears this week's change was made following suggestions from unions to allow one-off "check-in" sessions for all pupils, as long as "wider protective measures" were kept.
Geoff Barton, the general secretary  of the Association of School and College Leaders (ASCL), said he was "pleased that the government has listened", but the changes did not make up for the lack of "a long-term, strategic plan for education over the coming months".
Two-thirds of schools open, but just 40 per cent of kids return
Fewer than 40 per cent of eligible primary pupils were back in reopened school by Thursday last week.
The latest attendance data from the DfE shows that 67 per cent of primary schools had reopened to more pupils by June 11, up from 52 per cent in the first week of wider reopening.
Ministers had asked primary schools to start taking back pupils in reception, year 1 and year 6 from June 1, but many chose to delay, citing safety fears.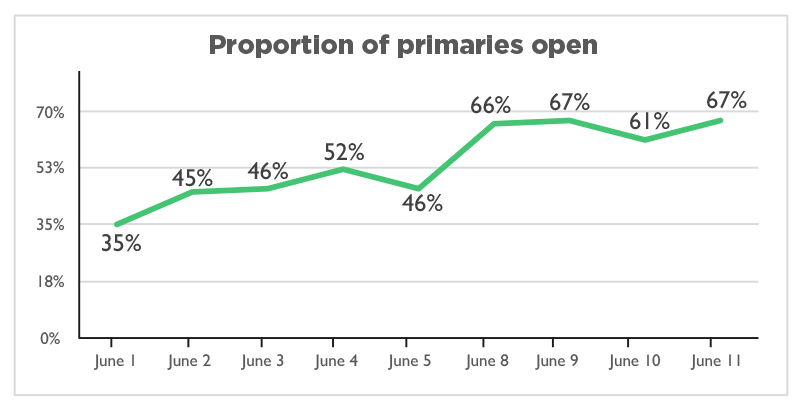 According to the data, 38.6 per cent of year 6 pupils were in attendance in open schools as of Thursday, up from 37.3 per cent on June 4.
The data for younger pupils shows that 32.3 per cent of reception pupils and 28.9 per cent of year 1s attended open schools last Thursday, up from 30.6 per cent and 25.6 per cent, respectively, the week before.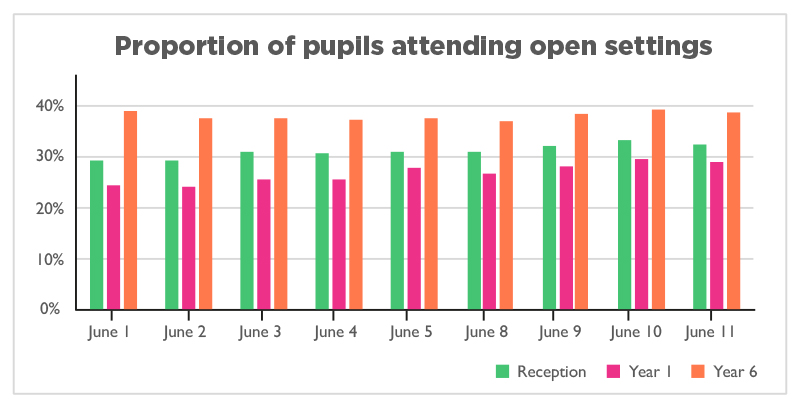 These percentages are based on the proportion of pupils attending open schools only.
As a proportion of the overall pupil population, 21.9 per cent of reception pupils, 19.6 per cent of year 1s and 26.2 per cent of year 6s were back as of Thursday.
Festival tent repurposed into pop-up classroom
Meanwhile, school leaders continue to find their own solutions to reopening. Manorfield primary school, in Tower Hamlets, east London, has been trialling a "pop-up" classroom using a repurposed festival marquee.
Paul Jackson, the school's head, said the tent was used as a dining hall and for art and cooking, allowing him to get more pupils back.
"We've got a relatively large playground, but because not many children can go out … at the same time, it doesn't mean that the playground spaces are affected."
The tent has been provided free for a month as part of a trial with the British architecture company Curl la Tourelle Head, which hopes to extend the model across more schools.
The tents normally cost about £300 a week to rent