In what has been described as a "mini" reshuffle by the Labour party this evening, Yvonne Fovargue MP has been appointed Junior Shadow Minister for Education.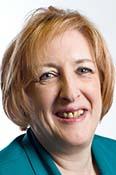 Fovargue (pictured) replaces Rushanara Ali, who stepped down on September 27, after refusing to take part in a vote on military action in Iraq.
The new role in Labour's education team is a move for Ms Fovargue from being the Shadow Minister for Defence, appointed last year.
A third move within two years, Ms Fovargue had a brief spell as Shadow Minister for Transport in 2013 and was Opposition Whip between 2011 and 2013.
Parliament.uk describes Ms Fovargue's political interests as being "third sector, consumer credit and debt, employment law and health."
Ms Fovargue won the Makerfield constituency in the Borough of Wigan with a majority of 12,490 in May 2010,
Other Labour mini-reshuffle moves tonight include Pat McFadden becoming Shadow Europe Minister, replacing Gareth Thomas who moves within the Shadow Foreign and Commonwealth team to become Shadow Minister for North Africa and the Middle East, and Ian Lucas moves from Foreign Affairs to Defence.