The traditional parents' evening may be a thing of the past as schools hail the merits of virtual meetings.
 Nine months into the coronavirus pandemic, schools are backing innovative digital solutions to meet the challenges they face. 
While some were already well ahead on the digital journey, the pandemic has pushed the benefits of online working to the fore.
Scholars Academy Trust in Leicestershire says up to 90 per cent of parents now attend information meetings, which include curriculum workshops and parents' evenings, since a move to Zoom or Microsoft Teams.  
Inderjit Sandu, the executive headteacher, said staff wanted to stick with virtual meetings. "They are able to undertake the meetings from home without having to spend additional time in school."
 Dr Victoria Carr, head of Woodlands Primary School in Ellesmere Port, said online parents' evening through Google Classroom was "definitely a keeper". 
"It saved us an inordinate amount of time. If you have in-school parents' evenings, you are paying the costs of the lighting, the heating, the caretakers locking up, everybody being here until the end of the day.  
"The beauty of so many online tools now, both as a mum and a school leader, is that the timings are tight, the meetings focused and therefore it is much more 'slick'."
 Dr Kate Chhatwal, the chief executive of Challenge Partners, an education charity, said some schools were determined to keep online parents' evenings. 
"I don't know whether there'll be a whole-scale abandonment of in-person meetings, but it doesn't seem to be something that people are desperate to get back to."
Labour MP Jess Phillips said her online parents' evening that gave "five minutes before it cut you off", was a "revelation and the only thing I think is actually improved by being online. May this be the Zoom that lasts. For the rest I miss your faces."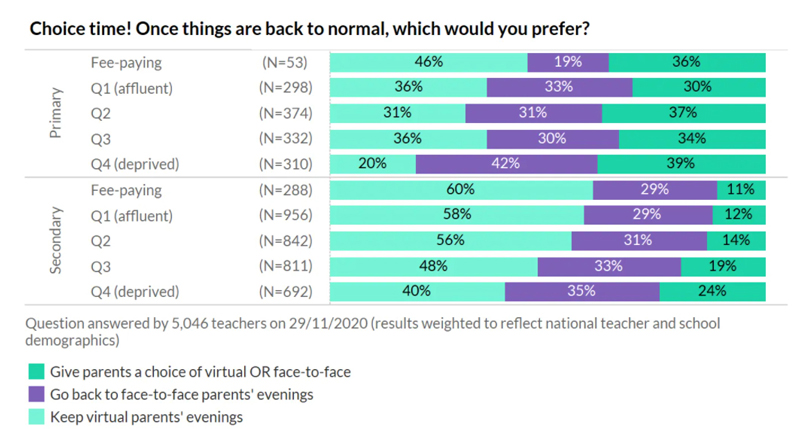 TeacherTapp statistics from the end of November suggest that 40 per cent of secondary teachers in poorer areas would like to keep virtual parents' evenings, with 35 per cent preferring in- person meetings. 
However, 60 per cent of teachers in fee-paying secondaries backed virtual parents' evenings. 
At primaries, it tends to follow the same trends, but 42 per cent of teachers in deprived areas said they would want face-to-face parents' evenings. Primaries also tended to be more in favour of giving parents a choice.
Meanwhile, virtual sport competitions, in which a pupil's efforts is recorded and sent to be marked by organisers have boosted PE attendance at the BMAT academy trust. 
Jeremias Odebode, a PE teacher at the trust, said: "They have given children even more of a chance to try out a wider range of activities, which will help them in the future.
"By making the competitions more inclusive, I have seen a higher rate of children taking part and performances being improved within PE."
Other aspects of the traditional school experience have also been adapted.
Many work placements have been cancelled as businesses continue to work from home. 
Academies Enterprise Trust and employment agency REED created a virtual work experience programme in which pupils watched pre-recorded meetings and remotely visited five different departments, such as sales and finance, while completing a digital workbook. 
Teachers' professional development (CPD) and school tours have also been taken online.
The LEO Academy Trust schools held CPD webinars, which allowed staff to participate from home, while the Birmingham-based Robin Hood MAT is expanding its virtual CPD concept nationwide. 
The initiative, called Podcast CPD, curates a list of podcasts for self-development across a ten-week period alongside three Zoom meetings. 
St James the Great RC Primary & Nursery School in south London has commissioned a video tour of its school that has had nearly 200 views in just over a week. 
Chris Andrew, St James' head, said he had tried hour-long Zoom tours, but they only had about six parents on each, compared to about 50 people on the usual physical tours.
"A lot of schools are having to be quite creative. You can't afford not to be full. So it's anything to try and publicise your school at the moment because you can't sell it in person."