Almost half of the new free schools of the past three years opened in temporary accommodation, with most still not in a permanent home.
An investigation by Schools Week has also found Ofsted inspectors are flagging land issues in critical judgments, with one school now in limbo for seven years.
Another school, Katherine Warington School in Hertfordshire, this week had to send pupils on a bus ten miles down the road to a university campus because its building wasn't ready.
School leaders are being left to improve sites themselves – with one school having to install new toilets, while another school has had three different sites in three years.
And International Academy of Greenwich, south London, could face having the plug pulled because it cannot secure planning permission, despite operating for three years on a temporary site.
The findings come as the government recently confirmed its commitment to delivering more free schools, although Unity Howard, the director of the New Schools Network, says finding a suitable site is the "single biggest issue" for new schools.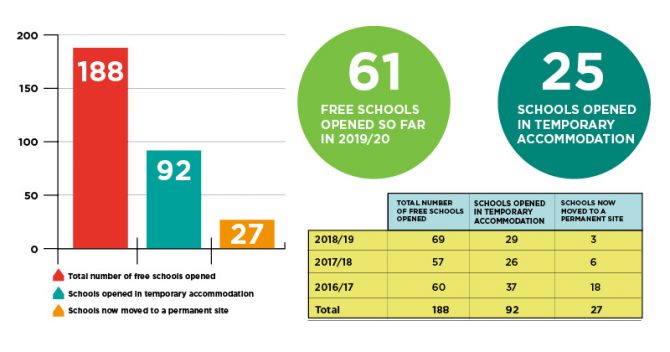 'Operating a school with no clear plan for its future is deeply irresponsible'
Figures obtained by Schools Week through a freedom of information request show that 92 of the 188 free schools that opened between September 2016 and August this year did so in temporary accommodation.
Twenty-seven had moved to a permanent home by the start of the summer, with 14 more moving in time for this term.
However 25 of the 61 free schools that opened this month were in temporary accommodation.
Kevin Courtney, the joint general secretary of the National Education Union, said it "beggars belief" the government was "pushing on with a programme that creates such turmoil and waste".
"Opening a school with no clear plan for its future is deeply irresponsible and shows the utter incoherence of this policy."
Ofsted: delays in planning permission has negative impact
International Academy of Greenwich (IAG) has been based in a converted church since September 2016. In July this year Greenwich council rejected its most recent attempt to secure planning permission for a permanent site, arguing that the borough did not need more secondary school places.
In a statement, IAG said it was "currently awaiting ministerial level clarity about how the school will proceed from here".
Ofsted rated it "requires improvement" in July in a report that warned "changes in senior leadership, high staff turnover and delays in planning permission for the new building have had a negative impact".
Liz Robinson, the co-director of Big Education Trust, which took over the school last year, said many of Ofsted's concerns related to the temporary site and the "uncertainty that introduces to staff and curriculum planning".
"Until the accommodation situation is clarified by the Department for Education, these issues continue to provide challenges for the school team."
Howard, the NSN director, placed the blame with local authorities for "dragging their feet" over planning permission.
"If councils continue to obstruct and delay, the government should step in and legislate to compel them to release what is already publicly owned land to new free school groups."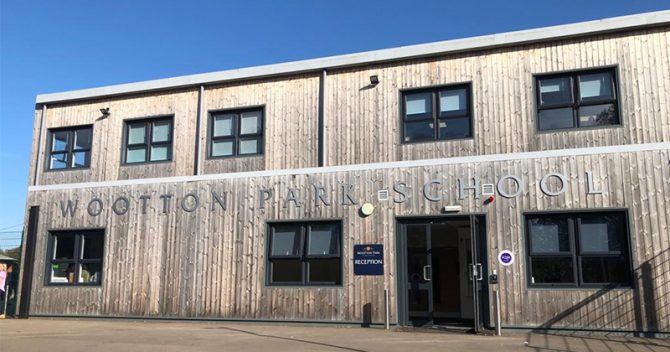 'Being so tightly packed together has strengthened the school community'
However, others in temporary accommodation have been praised.
Ofsted has inspected 35 of those that have opened since September 2016. Twelve are "outstanding" and 17 are "good". Four required improvement, with just two – Rugby Free Secondary School and Daventry Hill School, both in the Midlands – rated "inadequate".
Canary Wharf Crossharbour secondary in London's Docklands, which was rated "good", has moved three times since it opened in September 2016. It has been based in a former office block since last year.
But Sarah Counter, the chief executive of the trust Canary Wharf College, said it had to dramatically reduce pupil intake, making finances "very, very tight". Staff had "great excitement and enthusiasm", but ongoing disputes about the site had delayed it moving to a permanent home.
"I still don't know if we're ultimately going to get it. It seems to all be very difficult," she said.
"It's not much fun having to pack up your boxes at the end of every year. Some of our staff have said with glee 'this is the first time I've been in the same classroom for two years running'."
Star Academies has opened eight free schools in temporary accommodation since September 2016, including two this month.
A spokesperson said that waiting for the right site and building work risked "delaying opening that provision for children who need it".
"We've always been very clear that it's what happens inside the building that matters – and as we have shown, you can still deliver outstanding provision in temporary buildings."
The all-through Wootton Park School in Northamptonshire, which Ofsted has rated "outstanding", has been based in modular buildings since it opened in 2016. It had planned to move to its permanent site this year, with 724 pupils, but delays to construction work delayed this until next summer.
Dan Rosser, Wootton's head, said it was "frustrating" that the school could not deliver subjects such as design technology in the temporary buildings. However, he said being "so tightly packed together" had strengthened the school community.
"We embraced it. We made it work for us," he said. "I think if you fight against it, well actually there's nothing you're going to change."
'School leaders have worked hard to improve the building'
School leaders are also having to improve facilities themselves. The Orchard School, a special school in Trafford run by the Dunham Trust, has been in temporary accommodation at a site previously used by another primary school since September 2016.
It was rated "good" by Ofsted, inspectors saying that its leaders had "worked hard" to improve the building, including installing new pupil toilets and trying to "address temperature issues". However, it said the school "still requires some improvements to maximise learning opportunities and enhance the welfare of pupils". The school did not respond to a request for comment.
Meanwhile, the Grove School, a special school in Haringey, north London, run by Heartlands Community Trust, opened last year in split-site temporary accommodation. Building work has begun on its permanent site, but the school is still having to find "additional funding" itself to "improve upon the sensory rooms, soft play areas" and other equipment, including water therapy rooms and an outdoor gym and play area. The school is hoping to raise £182,000 for all the equipment it will need at its permanent home.
Some schools have also had multiple year groups spend their whole schooling in temporary accommodation.
Cobham Free School in Surrey opened in August 2012 and is yet to move into its permanent site, although its sixth-form centre opened this year. Tauheedul Islam Boys' High School in Blackburn, run by Star Academies, also opened in August 2012 and moved into its permanent home this term, while Abacus Belsize Primary School in north London is still waiting for planning permission after opening in September 2013.
A spokesperson for the DfE said it "always endeavours" to open free schools in permanent locations but it "can take some time to secure".
"When this is not possible, we make sure that the temporary site is safe and suitable for educational purposes."