Ife Grillo, a state school pupil from east London, has secured a place on the English national debating team, a side historically dominated by privately educated students.
Seventeen-year-old Ife (pictured) from Bridge Academy, Hackney, will now line up alongside team-mates from Eton, Westminster, Dulwich College and Alleyn's School at the world debating championships in Germany this July.
"I feel so humbled to be able to say that I am on Team England," Ife says. "It's been a long mental journey and I've had to learn to become confident in myself. I feel so proud and so lucky."
Ife, who has already debated in the House of Commons chamber, is the vice-chair of a national charity, mentors primary school students and has started his own organisation to encourage youth campaigning.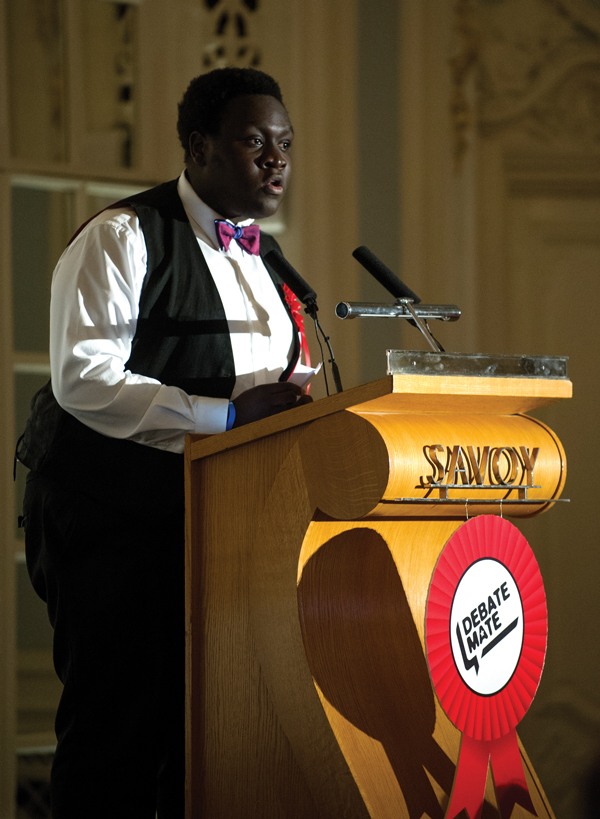 "I've always had a love for trying to resolve social issues, that's why I get so involved in politics," he says. "Debating is a great way to discuss issues in a calm atmosphere where everyone is listened to. It also forces you to look at both sides
of an argument."
He is the first member of the team to have been coached by Debate Mate, which targets schools with above-average numbers of children entitled to free
school meals.
This is also only the fourth time in the past decade that a student from a state school has got a place on the team and Ife says he hopes his success can "go some way in laying down a pipeline so more state school kids get this experience.
"The lack of diversity in debating is really bad. There is a massive lack of state school kids, females and ethnic minorities. The buck shouldn't stop with me."
The chief executive of Debate Mate, Margaret McCabe, says: "With the support of our mentors, his Debate Mate peers, and the wider debating community, he has worked incredibly hard . . . he will do himself and his country proud."
Ife says he also owes a lot of his success to his school.
"I am so thankful to go to a school that honestly believes and practises the concept that every child can change the world. My teachers saw something in me far before I did."
Ife will join his teammates, Archie Hall from Westminster, Rosa Thomas from Alleyn's, Ed Bracey from Eton and captain Kenza Wilks from Dulwich College, in training sessions before flying to Stuttgart to compete against students from around the world.
"I can't wait for Worlds," he says. "Getting to meet people from across the world who all have a shared pattern is brilliant. We're ready to go out and smash it."