Record numbers of teachers are leaving the profession bolstering claims of a recruitment crisis, according to new figures released today by the Department for Education.
While headline figures from the workforce census show there are an extra 2,000 teachers working in schools, further analysis highlights a worrying trend of teachers leaving the profession.
Nearly one in ten teachers left the profession last year – the highest proportion for a decade –  and almost a quarter of teachers now leave within three years.
The Department for Education has been criticised by numerous groups – unions and other government agencies – about its unwillingness to acknowledge a problem.
The public accounts committee earlier this month slammed the DfE for its lack of "leadership or urgency" in tackling supply issues, after a scathing report by the National Audit Office revealed a series of weaknesses in teacher training.
Schools minister Nick Gibb has previously refused to call recruitment problems a "crisis", but has recognised there is a problem.
In response to today's figures, Russell Hobby, general secretary of the National Association of Head Teachers, said: "Official statistics mask the reality that school leaders are still sometimes forced to appoint staff who are less experienced or able than they would like because of a lack of applications for a post; it is about quality, not just the numbers in post.
""Figures show a further deterioration in retention after three years, which is a source of great concern for school leaders. We lose a quarter of those who enter service by this point. This has been steadily worsening over the past four years, and the government needs to look at the drivers – workload, stagnant pay and an over-bearing accountability system – behind this worrying trend."
A DfE spokesperson said: "Teachers are integral to our vision of delivering educational excellence everywhere and thanks to their hard work over 1.4 million more children are in good or outstanding schools than August 2010.
"Today's figures show that teaching continues to be an attractive career with more teachers in our schools than ever before – 15,000 more since 2010 – and a year on year fall in the number of vacant posts.
"The number of new teachers entering our classrooms outnumbers those who retire or leave, while there are more teachers returning to the profession, demonstrating how many people relish the prospect of a career where they can transform lives every day.
"These statistics also show our reforms to the curriculum are continuing to deliver with more time being spent teaching children the Ebacc subjects, providing children with a strong academic core to give them the best start in life."
Below Schools Week picks out the main points from the data:
1. Record numbers of teachers are leaving the profession
The DfE looks at the wastage of teachers – this is the number of people either leaving the profession, retiring or going on maternity leave.
For full-time teachers, this is at the highest level in more than a decade. This year, schools recorded a loss of 9.5 per cent of staff.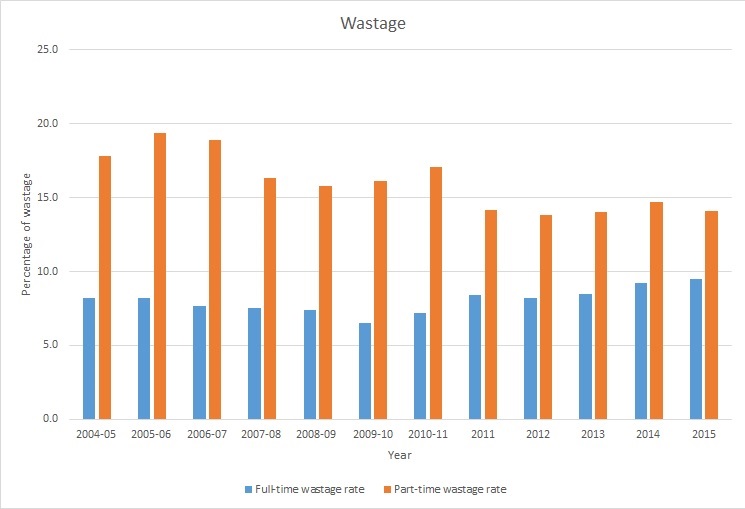 For part-time teachers this proportion has remained at about 14 per cent for the last five years.
Highlighting potential problems in the secondary sector – the "wastage" of secondary teachers has risen from 10.4 per cent last year to 11.2 per cent this year. This is the largest increase since November 2011.
2. Teachers are leaving faster than before
For the last 10 years, about 87 per cent of teachers are still working in schools after their first year of starting.
But the latest figures show that after three years, teachers are leaving faster than they were before: 75 per cent of teachers who started in 2012 were still in post three years later, which is the lowest since records began in 1996.
After about five years, this starts to become a bit more stable again.
See table below: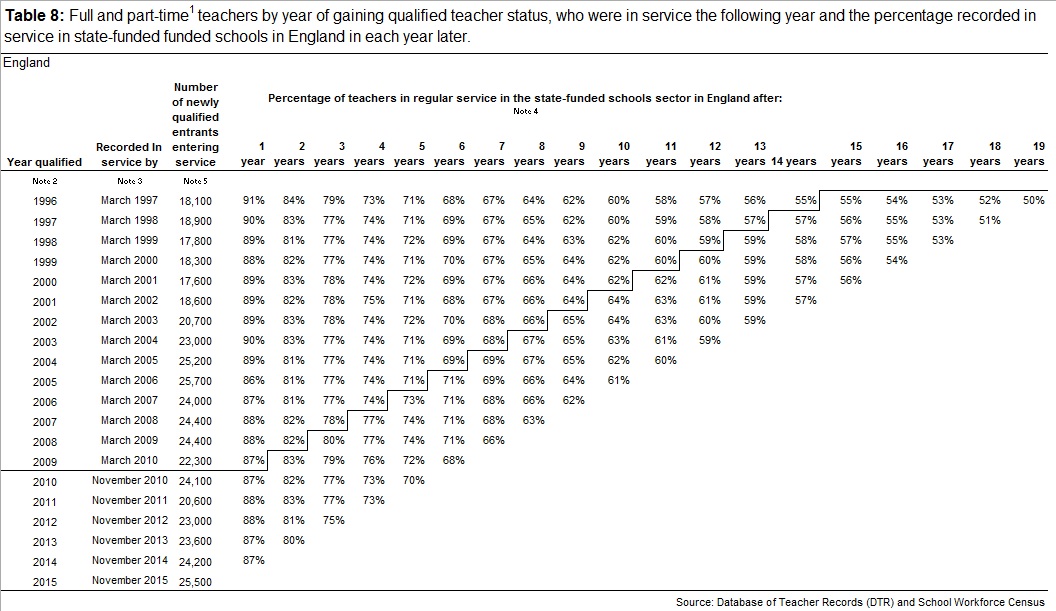 3. A 10% increase in unqualified teachers
There has been a 10 per cent increase in the number of teachers without qualified teacher status (QTS) – from 20,300 to 22,500.
Where those unqualified teachers are working varies – 3.1 per cent of teachers in all primary/nursery schools do not have QTS, and at secondary it is 5.9 per cent.
Free schools have the highest proportion of those without QTS (12.5 per cent at primary, 10.3 per cent at secondary).
4. Schools are employing more support staff than ever
Since 2011, the number of full time equivalent (FTE) teachers has increased by 3.84 per cent (from 440,000 to 456,900).
This is the smallest increase of all the types of staff. The number of teaching assistants has gone up from 219,800 to 263,000 in the same period – an almost 20 per cent increase. At the same time, the number of support staff has increased by 9 per cent.
5. Fewer men now work in schools
Overall, women make up three quarters of the teaching workforce, and 80 per cent of the entire profession.
Fewer men now work in schools. Women now make up 73.8 per cent of the workforce – up from 72.9 per cent last year.
But, 18.5 per cent of the men working in schools are either headteachers, deputy heads or assistant heads. Whereas 13.9 per cent of the women working in schools are at the same level.
6. Men are paid more than women
In all types of secondary schools, men have a median salary which is consistently higher than women.
In LA-maintained secondaries, men have an average salary of £37,900, women are on £37,500.
In secondary academies, pay drops for both genders, but there is a bigger gap between salaries: men (£37,500), women (£36,500).
At primary, the gender pay gap is reversed. At LA-maintained schools men earn, on average, £32,400 and women earn £35,100, and at primary academies, this continues, with men earning £30,100 and women earning £32,800.
But, overall, at all types of schools, men earn, on average, £36,300 and women earn £35,200.
Save
Save