The former education secretary Michael Gove has announced he will run for the Conservative Party leadership, and has received the backing of his successor Nicky Morgan.
Gove, who had been expected to run alongside Boris Johnson and serve as chancellor in his government if he won, has today announced that he will throw his own hat in the ring and directly challenge the ex-mayor of London and fellow candidates Theresa May, Stephen Crabb, Liam Fox and Andrea Leadsom, who also announced her candidacy this morning.
In the last few minutes Nicky Morgan, Gove's successor at the Department for Education, ruled herself out of the race and backed him for the top job. It comes after two other members of the Conservative education team – schools minister Nick Gibb and skills minister Nick Boles – threw their support behind Gove. They had both previously supported a joint Johnson-Gove ticket.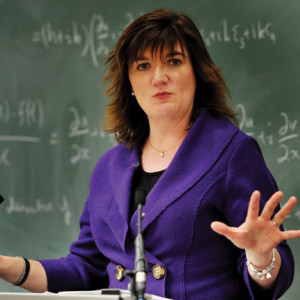 In a statement, Morgan spoke of a divided nation and the need to heal wounds exposed by the recent EU referendum, and said Gove was "unequivocally the right person" to present a "confident, positive and optimistic platform for our country's future in which this Party appeals to the centre ground of British politics".
"It is equally important that we now secure the right deal for Britain – and the next leader must have the skill and credibility to put together the right team to renegotiate our exit from and future relationship with Europe and explain the final terms to the British people," she added.
The deadline for nominations is noon today, and votes of Conservative MPs to whittle down the field to two candidates who will then face a vote of the full membership will begin on Tuesday.
Gove, currently the justice secretary, was the key architect of the rapid expansion of the academies programme during his tenure as education secretary from 2010 to 2014. He was effectively demoted in 2014, when he became chief whip, but was put in charge of the government's prison reform programme following its general election win last year.
Gibb, who served as minister for schools reform during Gove's time as education secretary, said he was a "passionate believer in social justice and a true reformer".
Michael Gove is the man the party and country can trust to deliver Brexit. He's a passionate believer in social justice and a true reformer.

— Nick Gibb (@NickGibbUK) June 30, 2016
But not all of the education team is behind Gove. Childcare minister Sam Gyimah has today come out in support of Theresa May, the home secretary, who announced her candidacy in a speech this morning.