Next time it'll be champagne, but for now a St George flag and punches in the air marked success for a team of five students from Robert May's School, Hampshire, in the FI in Schools world championship 2014.
Team Colossus set a new world record when they represented England in the Abu Dhabi finals of the competition. The team's car dashed along the F1 in Schools 20m track in a record time of 1.003 seconds, knocking almost two-hundredths of a second off the previous record, held for seven years by Northern Ireland's team FUGA.
Colossus F1 weren't fazed at all when 38 teams from 24 countries were put in the spotlight for two days of verbal presentations, pit displays and portfolio assessments. They broke the world record less than four hours later.
Founder and chairman of F1 in Schools, Andrew Denford, said: "Records are there to be broken and the world record has stood for seven years. The innovations that Colossus F1 introduced . . . have paid off and produced a very quick car. Our congratulations go to the team for their great effort."
Sponsors the final in Abu Dhabi included Yas Marina Circuit, Ferrari World Abu Dhabi, The Institution of Engineering and Technology, City University London and Etihad Airways.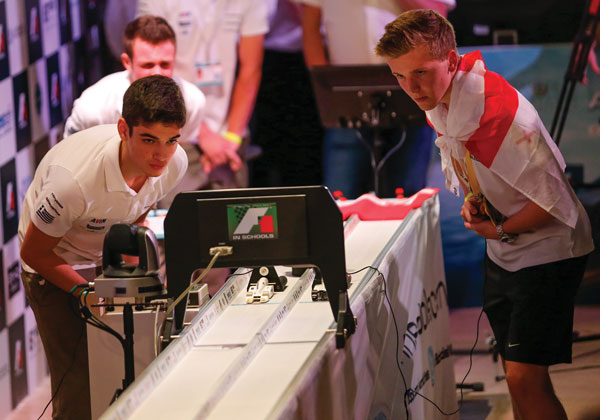 The competition brief told entrants they were an "FI team commissioned to design, construct and race the fastest Formula One car of the future, powered by compressed air cylinders".
Students were competing for the Bernie Ecclestone trophy, City University London scholarships and a VIP paddock tour at the 2014 F1 Abu Dhabi grand prix.
The Robert May's team also collected the Innovative Thinking award for an air cushion device and the Pressure Challenge award for their knowledge of Autodesk 3D software, designing and 3D rendering a helmet for F1 within two hours.
After the big win, Colossus manager, Vicky Waterfield said: "I'm speechless. I need to pinch myself as I just can't believe this has happened. We have had an amazing experience and to win this has topped it off.
"We've worked so hard, putting in eight hours at school and then another eight afterwards but it really paid off."
Mr Denford topped off Team Colossus's week by saying: "Colossus F1 showed innovation in this as well as their unique R&D programme. I wouldn't be at all surprised to see these faces in the pit lane in the not too distant future."
Main pic: Team Colossus from Robert May's School celebrate their victory at the F1 in Schools World Championship 2014.