Victory at the F1 in Schools UK national finals will give two students from Robert May's School in Hampshire the chance of £5,000 annual bursaries if they study engineering at UCL.
Jumping to the top of the podium, team Evolution F1 claimed the best engineered car award before being crowned overall winners.
Held at The Big Bang Fair at Birmingham's NEC, the contest brought together 26 teams that topped the nine regional finals held earlier this year.
The Hampshire team of six was made up of manufacturing engineer Oliver Curry, 14; CAD engineer Christopher McLennan, 16; scrutineer manager Katie Halley, 15; team manager Helen Jarman, 15; graphic designer Rachel Scott, 15; and design engineer Rob Arthur, 16.
As part of their prize, two of the team are eligible for an annual £5,000 bursary from UCL for a mechanical engineering degree course, as long as they meet the university's entry requirements. The two will be chosen closer to university choice time.
The Evolution F1 team will now take a place at the F1 in Schools world finals in Singapore later this year, as well as visit the FIA 2015 Formula 1 British Grand Prix at Silverstone.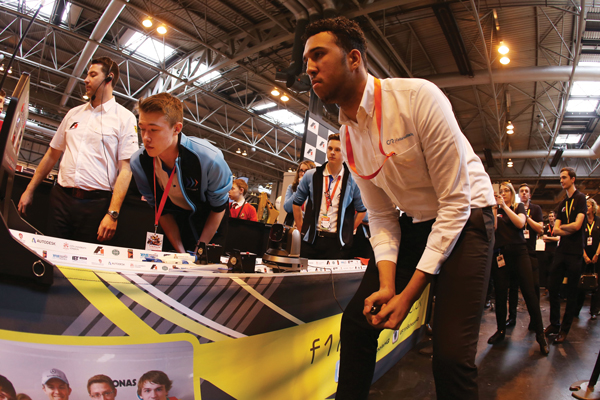 "We thought we'd do well, but we're really surprised to have won the title," said Helen Jarman.
"We've worked so hard for this, so it's fantastic that we'll be going to Singapore for the world finals. Now we'll spend as much time as possible developing our car and all the other elements for Singapore."
Rob Arthur added: "We didn't have the fastest car today, so we need to look at our competitors and how they achieved this, as well as looking at new innovations."
Judges praised the high standards of work and the engineering used to create the team's scale-model Formula 1 car.
These included scrutineering, engineering, verbal presentations, pit presentation and display, as well as a speed test on the bespoke F1 in Schools test track, a 20m drag strip that the cars covered in just over a second.
Andrew Denford, chairman and founder of F1 in Schools, said: "The learning experience of F1 in Schools is almost unnoticed by the students as their enthusiasm and motivation to produce the best entry possible takes over.
"It is only when they reach this stage and reflect on their work that they realise how their skills have improved."
Cyclone Racing, a joint Kent team of students from Wilmington Grammar School in Dartford and Invicta Grammar School, Maidstone, were second.
Cyclone will join Evolution F1 in Singapore for the world finals, with third placegetters, Shockwave F1 from Emmanuel College, Gateshead.
Main pic: Team Evolution F1. From left: Oliver Curry, Christopher McLennan, Katie Halley, Helen Jarman, Rachel Scott and Rob Arthur.