Schools have been placed in an "impossibly difficult position" as the government restricts Covid tests to those with "classic symptoms", despite research indicating children are more likely to show other signs.
Government guidance states the main symptoms of coronavirus are a high temperature, a new, continuous cough and a loss or change to your smell or taste.
As the government's testing system falls over amid increased demand, health secretary Matt Hancock has warned only those showing one or more of those symptoms should get a test
But experts are warning a lack of information on children's symptoms means the government is "flying blind".
Research conducted by the Covid Symptom Study has found 52 per cent of school-aged children "don't log any 'adult' classic symptoms in the week before or after the test".
Rather, the most common symptoms displayed by children are fatigue, headache, fever, sore throat and a loss of appetite.
Jonny Uttley, chief executive of The Education Alliance academy trust, said the government's stance was "incredibly confused".
Uttley said the difficulty schools face is they have "no alternative other than to follow government and public health advice" but admitted "there's clearly a significant risk of spread throughout the community now anyway".
"We have no alternative than to point to those three symptoms because unless and until that definition is broadened, for children or for others, it puts the schools in an impossibly difficult position because then we would then have to start playing doctor."
Health secretary Matt Hancock, speaking in the House of Commons on Monday, said that all councils "should make clear that if students have coronavirus symptoms – and we all know what they are… then they should come forward for a test.
"If they have symptoms of another illness and not coronavirus symptoms, then they should not come forward for a test."
It's a stark contrast to comments made by Hancock in July when he encouraged the public to get tested if they have symptoms "or if you have any doubt".
Dr Joshua Moon, a research fellow at the Science Policy Research Unit, warned the government has "largely ignored children" when thinking about policy and testing because assumptions early in the pandemic suggested "children were either protected or not as badly affected".
"That has weakened our ability to do anything at this point because we don't have the information – we are again flying blind."
He added: "From a school's perspective I can see why that is not good enough because it doesn't protect the parents, it doesn't protect the teachers and it doesn't protect the other children".
The UK's chief medical officers, in a letter to schools on Wednesday, said that transmission of Covid to children in schools does occur, but is "probably not a common route of transmission". They said it may also be lower in primary children than among secondary students.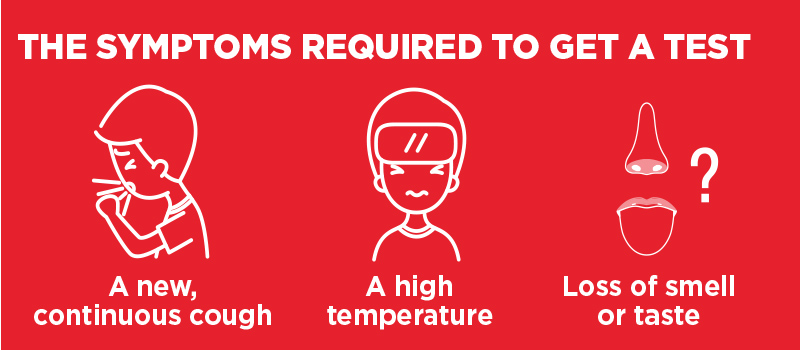 The letter added transmission to staff also does occur, but studies suggest it "may largely be staff to staff rather than pupil to staff".
Moon, who is currently studying Covid-19 testing systems, called for more studies to be conducted into the symptoms characteristic of youth infection.
"Research into this is going to be really important – the question is how to conduct that research if testing capacity is limited," he said.
The Covid Symptom Study App's findings are based on data from 198 children with positive tests and around 15,800 negative tests.
It found 55 per cent of children who tested positive for Covid-19 displayed fatigue, while 53 per cent complained of headache.
In addition 33 per cent of those who tested positive didn't log any of the 20 symptoms listed in the app.
The proportion of pupils attending school fell from 88 per cent on September 10 to 87 per cent on September 17.
A Department of Health and Social Care spokesperson added: "An expert scientific group keeps the symptoms of Covid-19 for all age groups under review as we increase our understanding of the virus."