The Department for Education today released provisional results for this summer's GCSE results.
It is the first time the provisional results by school have been released this early, with schools minister Nick Gibb saying in July this would help parents make a more "informed" choice when choosing secondary schools, ahead of the school admissions deadline on October 31.
The school by school results are available here. Full league tables will be published, as usual, in January.
Overall, the provisional statistics show 56.1 per cent of state-funded schools achieved the benchmark of five or more A*-C grades, including English and maths,
The publication has been met with caution from the unions, however, as schools are still awaiting outcomes from any appeals. Last year, more than 54,000 grades were changed.
Key Facts About Local Areas
1. 10 local authorities saw the proportion of pupils achieving 5 or more A*-C grades, including English and maths, taking a more than 5 percentage point hit.
Hammersmith and Fulham saw a huge 16.6 percentage point drop – by far the biggest in the country.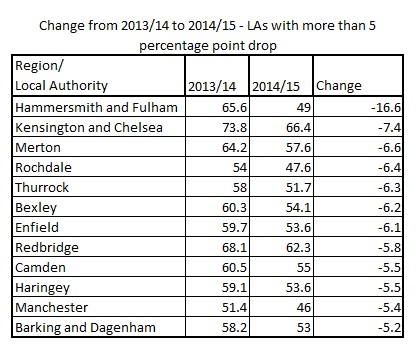 2. 3 areas, on the other hand, improved their results by at least 5 percentage points.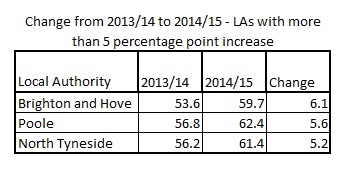 3. As per last year, Knowsley was the only LA to not meet the 40% benchmark set by the government.
There are also 24 LAs where fewer than 50 per cent of pupils are achieving 5 A*-C grades including English and maths. Hammersmith and Fulham again makes an appearance.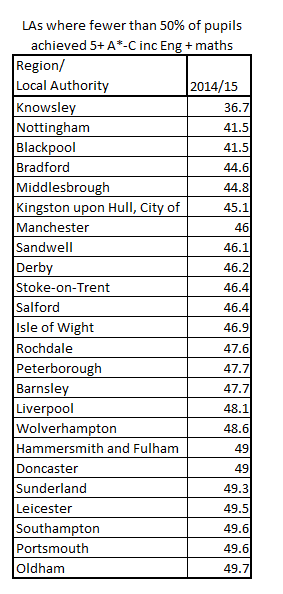 4. 12 local authorities had a more than '20 percentage point difference' between pupils entering for EBacc subjects and pupils achieving it.
This suggests that the local authorities are meeting the government preference for pupils to be entered into these so-called 'traditional' subjects but pupils are failing to meet the grades.
More than half of the authorities are London boroughs. Something really appears to have gone amiss in Hammersmith and Fulham.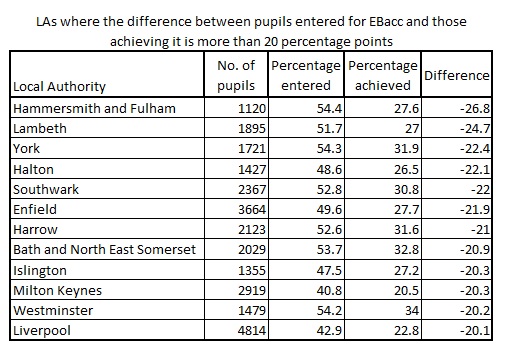 5. The DfE is using today's results to show how their academies programme has improved results.
Converter academies do have the highest results – with 63.3 per cent achieving the benchmark.
Converter academies are schools rated "outstanding" at the time of conversion.
But, if you look at free schools – the government's flagship programme – of the 20 schools with year 11 pupils this summer, only 50.5 per cent met the same benchmark, well below LA maintained schools (55.1 per cent) and converter academies.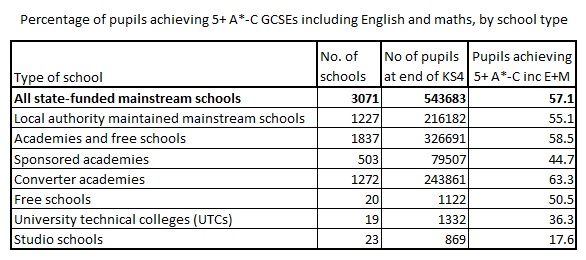 A Department for Education press release stated that Mr Gibb said: "As a One Nation Government we are committed to delivering educational excellence in every area of the country and today's results demonstrate the progress which is being made in extending opportunity and raising academic standards.
"Converter academies are leading the way in strong academic standards and over time we will see the excellence and expertise of strong sponsors spread.
"As well as raising standards, our plan for education is ensuring more pupils leave school with the qualifications which we know will give them the best possible chance to achieve their full potential."
UPDATE: Hammersmith and Fulham council say the results sent out by the DfE this morning have omitted the results for Sacred Heart High School. The council said with these included, the borough average for 5 A*-C grades, including English and maths, would be 62 per cent.