GCSE results day 2018 is over and it will have been an emotional experience for teachers and pupils across the country.
Schools Week wants to congratulate everyone for the time and effort that has gone into getting through a tough couple of years with lots of new information to take on board.
We have taken a look a some of the achievements of students who met their personal goals in the face of many challenges.
Our Lady's Catholic High School, Hackney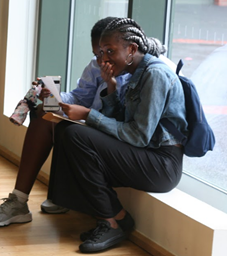 Faith Babatunde completed her GCSEs with grades 9s in biology, English language and English literature, grade 8s in physics, chemistry and religious studies, and grade 7s in maths, and music. She also achieved an A grade in Mandarin.
Her fantastic achievements came after missing roughly a fifth of her Year 11 education due to medical issues. Despite this, she has high ambitions and wants to work in medicine in the future.
Faith is now planning to go on to study chemistry, biology, physics and psychology A-levels.
Emma Owens also battled with her health during her GCSEs. She contracted chicken pox during her exams, and had to sit
them in a separate room from other students as she was contagious.
She still managed to gain grade 9s in religious studies and geography, grade 8s in history, combined science and English language, a grade 7 in maths and a grade 6 in English literature. She also achieved a grade A in Mandarin.
She has decided to stay on and study further at Our Lady's mixed sixth form.
Villiers High School, Southall
At Villiers High School in Southall, a secondary school run by Ealing Council, 16-year-old Rhiya Talwar scored five 9 grades, one 8, two 7s and two 6s.
This achievement came just three years after losing her father. Rhiya thanked her teachers for "always pushing her" to succeed and said she she felt her dad would have been proud of her grades.
She said: "When I got 7s in mocks, my teachers would always tell me I could do even better.
"There was a lot of pressure. A lot of it was pressure I put on myself to do well. And it paid off."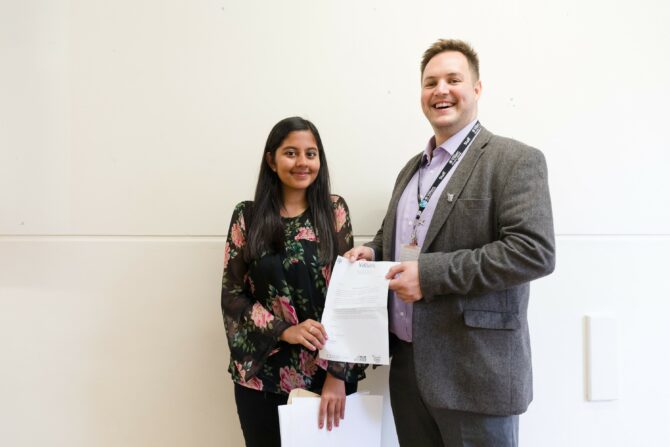 The Giles Academy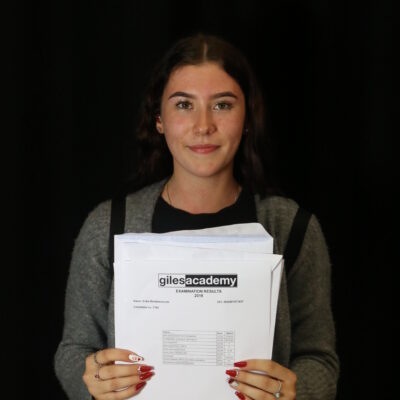 Erika Bandaleviciute started year 7 at The Giles Academy, a school in Boston, Lincolnshire that was rated 'required improvement' by Ofsted in 2017, with very limited spoken English.
It took her a while to adapt to life in an English secondary modern and her behaviour wasn't always good in the first few years.
But with support from the school's pastoral team, Erika channelled her energy into a positive attitude to learning and the school's assistant headteacher Katie Belcher said she has "become a role model".
Erika achieved a grade 7 and 8 in science, a grade 7 in maths and a 5 in English. She secured an 8 in photography, 7 in geography, a distinction in business and a pass in performing arts.
She also took an early A-Level in Russian, a received an A grade.
Belcher congratulated her for having "performed outstandingly well across all of her subjects to achieve fantastic grades".
Erika plans to continue with her studies to enable her to get into medicine in the future.
TBAP New Horizons AP Academy
At TBAP New Horizons Alternative Provision Academy in Warrington, Cheshire, which serves four to 16 year olds with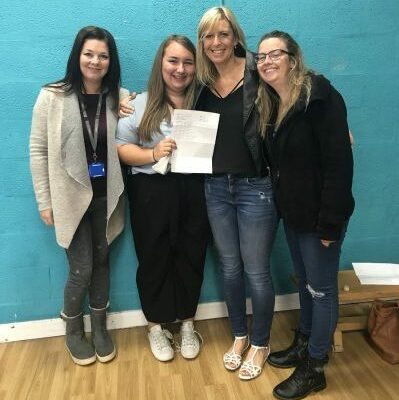 social, emotional and mental health needs, Hannah Bromley wowed her teachers with two grade 9s in English literature and religious studies, an 8 in history, a 7 in English language, a 6 in maths, and 3 As in science (taken in 2017), media, and health and social care.
Sixteen-year-old Hannah has been at the TBAP academy since year 9 and only just received her Education, Health and
Care Plan a few weeks ago. She has worked through a  number of challenges including medical concerns and mental health issues.
Samantha Rigby-White, head of school at TBAP New Horizons AP Academy, praised Hannah for her ongoing hard work and dedication.
"She has had lots of challenges but has really worked so hard with staff to get to a point where she could manage the anxiety and get through. It really paid off yesterday. We were all stood sobbing!"
Hannah told Schools Week: "I cannot explain the happiness and pride that I feel. Even a week later I still have to check my results once a day to make sure I haven't read them wrong.
"All the hard work, not just academically but emotionally too, has paid off. Just two years ago I could have never imagined completing my exams when I had been out of school for the best part of three years. My gratitude towards the staff at New Horizons will be eternal and they will always have a special place in my heart. They are amazing."
A challenge to Damian Hinds
Finally, one pupil bravely spoke out to challenge education secretary Damian Hinds to recognise that exam success doesn't have to be a grade four or above.
Ellie Chick published a video on her mother's Twitter field to show that any pupil who has put the time and effort in should be proud of their achievements.
My daughter and I have a message for @DamianHinds on behalf of the 'forgotten third' of students who have struggled through the education system to achieve grades 1-3 #ForgottenThird pic.twitter.com/MZ0ldK6hjZ

— STEMChick (@SarahLChick) August 23, 2018
Ellie is now 17-years-old, having been held back a year earlier in her education. She is a talented gymnast who has competed at a national level, but has found school a challenge.
She studies at St Andrews School, a small, non-selective independent school in Bedford, which she moved to from the state system for additional support.
She took nine GCSEs this year, in English language and literature, maths, combined science, physical education, ICT, food and art, and gained grades 1 to 3 in all of them. Her best result was her 3 in English literature, highlighting her love of reading.
Ellie addressed Hinds directly in the video: "33% of UK students got 1-3 grades. The government doesn't see these grades as a pass. So now it's hard for me to find any suitable courses. I believe this is wrong!"
She said she was proud of her results, adding: "Please don't forget about the 33% like me in the education system, because we all have a variety of talents and just need an opportunity to use them!"
Her mother, Sarah Chick, a director of Education at Villiers Park Educational Trust, said it has been a great achievement for Ellie to take nine subjects, get through the exams and pass all of them.
"Ellie has shown real resilience," she said. "She has kept going in spite of knockbacks and has shown so many personal skills."
In the video Ellie gave a special shout-out to her teaching assistant Oona Bradshaw, for all her help. "She is the unsung hero in all of this," Sarah Chick said.
Ellie is currently doing a level one gymnastics coaching qualifications and she hopes to go on to take a sports leadership apprenticeship in the future.