Entries to engineering and design technology GCSEs slumped by 36 per cent and 22 per cent respectively this year, while almost all EBacc subjects saw a rise.
Provisional exam entries data published by Ofqual today shows an overall drop in the number of entries to non-EBacc entries of 9 per cent. However, most of this fall is explained by the removal of at least nine subjects between 2018 and 2019 as part of the GCSE reform process.
Analysis by Schools Week of just the subjects that were not removed this year reveals that non-EBacc entries actually dropped by 2.2 per cent. Comparatively, entries to EBacc subjects rose by 4 per cent, and there has been the first significant rise in MFL entries in several years.
Our analysis shows that entries to non-EBacc subjects fell to 979,085 this year, compared with 1,001,185 entries to the same subjects in 2018.
The most significant drop in entries to non-EBacc subjects was in engineering, which saw entries fall 36 per cent from 4,715 to 2,990. Design and technology entries dropped 22 per cent from 117,605 to 90,805, while entries to media, film and TV studies GCSEs fell 12 per cent from 41,925 to 36,870.
"Entries in design and technology and engineering have declined," said Ofqual in its data release. "This is the first year that new specifications in these subjects are being awarded.
"The reformed specifications, are different to the legacy specifications so we might expect some changes in entries."
Physical education entries also dropped by 8 per cent from 87,825 to 80,665 while music dropped by 2.5 per cent from 35,895 to 34,990.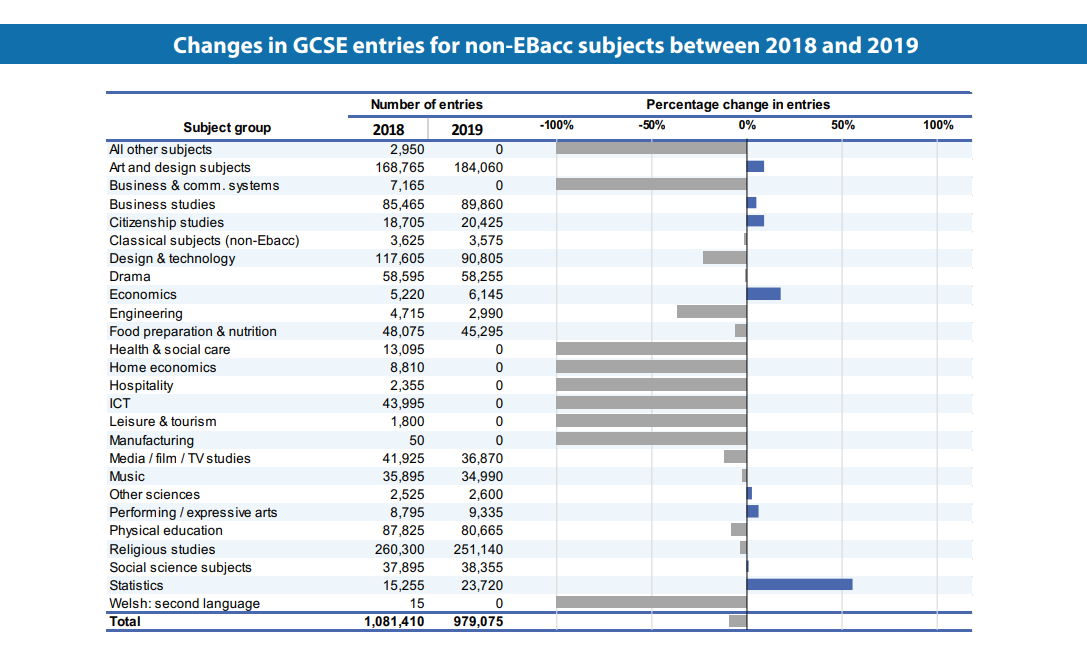 MFL entries up 4%
The number of pupils studying modern foreign languages GCSEs this summer has risen by more than four per cent, in the first significant increase for several years.
This summer sees a total of 301,055 entries for modern foreign languages, up from 288,305 last year, with the Spanish seeing the biggest increase in popularity with a 10 per cent rise on entries compared to 2018.
French entries rose by four per cent, but German has suffered a fall with 2.5 per cent fewer entries.
The German language has taken a hit in popularity in recent years. Last year, more pupils studied Chinese at A-level than German.
Last year was the first time that modern foreign languages entries remained relatively stable following years of significant decreases. However, entries have still not recovered to their 2014 level of 335,000.
Last summer, the British Council's language trends survey revealed that over a third of state schools allow pupils to opt out of studying a language in year 9, with schools in the most disadvantaged circumstances less likely to push languages course.
In January, it was announced that the University of York had been selected to run the government's new 'centre for excellence' for modern foreign languages, as part of a £4.8 million investment from the Department for Education to try and boost uptake in schools.
English language A-level entries fall
Overall A-level entries fell by 2 per cent this year, the provisional data shows.
Entries to English language fell by 22 per cent from 17,875 to 13,815, while entries to performing or expressive arts subjects fell by 17 per cent from 1,310 to 1,085.