The former head of the UK's largest Montessori network defrauded the charity of more than £180,000 over the course of seven years.
Philip Bujak, the former CEO of the Montessori St Nicholas charity, was sentenced to six years in prison on Friday for misusing a company credit card, filing false invoices and secretly taking a cut of the proceeds from the sale of a property in central London.
Bujak, 58, of Chelwood Gate, Haywards Heath, was found guilty of three counts of fraud by false representation, one count of conspiracy to defraud and one count of fraud by abuse of position.
As the CEO of the charity he was able to control everything and went to considerable lengths to conceal these frauds
The Montessori St Nicholas network counts nearly 700 nursery and primary schools and 4,000 individuals among its members. The membership is largely made up of early years provision, but also includes 21 primary schools.
Montessori schools are named after Dr Maria Montessori, who supported a child-centred approach to education. Most schools do not have year groups or assessments, and there is a focus on teaching practical life skills.
The City of London Police fraud squad said Bujak requested a company credit card shortly after joining the charity in 2003, which he used to pay for personal stays at hotels and – on one occasion – to pay for a facial.
In 2013, the charity's accountant became suspicious and reported his credit card use to trustees. In November 2014, After an internal investigation discovered he had committed fraud against the charity, Bujak was dismissed and his actions were reported to the police.
Between 2012 and 2013, Bujak submitted three invoices totalling £4,105 that he claimed were for restoration of artwork owned by the Montessori network. However, the invoices were doctored, and the original invoices showed the restoration was for his own personal art collection which included several watercolours of warships.
After investigating all invoices approved by Bujak, the police discovered the charity had been overcharged more than £60,000 for printing supplies.
Officers searched the home of the owners of printing company Abbey Printers in Devon, where Montessori had spent over £618,000 in the seven years leading up to 2014. They found emails and handwritten notes on printing designs showing money being added onto invoices for Bujak, and discovered that he and the printing owners used code words to discuss inflated invoices.
This meant Bujak could take a cut of the money paid to the printers and pay for personal printing using the charity's money. One invoice related to wedding invitations and orders of service for his own wedding in 2013.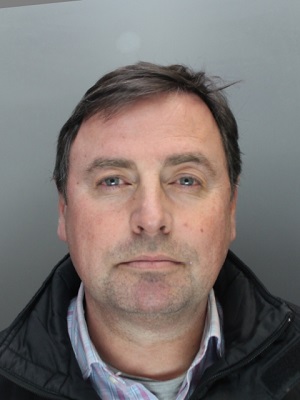 Between 2009 and 2011, Bujak appointed a company called Foris Fortuna Ltd to sell a property owned by Montessori in Knightsbridge. The company was paid a two per cent commission for selling the property in Princes Gate, amounting to over £350,000. Bujak agreed with Foris Fortuna that he would receive a secret payment of £100,000.
The £350,000 included more than £50,000 of VAT, but the company had not registered for VAT and did not pay it.
Bujak stood two separate trials at Southwark Crown Court, one for the credit card and printing fraud, and another for the property sale.
Following the first trial, which ran for six weeks from March, he was found guilty of conspiracy to defraud and three counts of fraud by false representation and sentenced to six years in prison.
At the second trial, Bujak was convicted of fraud by abuse of position and sentenced to separate three year and 18 month sentences to run concurrently with his six year term.
Adrian Dugdale, 46, from Leamington Road Villas, Notting Hill, received an 18 month suspended sentence for his part in the VAT fraud and was ordered to pay back £52,000 in VAT.
Jacqui Owen, the investigator who led the case for the City of London Police, said Bujak had "abused his position of trust."
"As the CEO of the charity he was able to control everything and went to considerable lengths to conceal these frauds. He worked together with his friends to pull the wool over the eyes of the charity.
"The City of London Police has worked tirelessly with the charity to investigate this case and make sure that Philip Bujak was brought to justice and made to realise the sheer immorality of his crimes."