An education charity that uses football to develop critical thinking and analysis skills put pupils to the test at a recent live debate.
Football Beyond Borders (FBB) targets pupils who are underachieving at school and aims to use their interest in football to get them back on track academically.
Pupils from years 6 to 10 in the FBB schools programme took part in a live debate in October at Amnesty International headquarters in Shoreditch, east London, taking to the stage to persuade audiences they had the strongest argument for which footballer should be the charity's next ambassador.
The debate encouraged them to gather evidence and facts about players, and present balanced arguments as to why their favourite players were better than those from opposing teams – with an audience vote deciding the winner.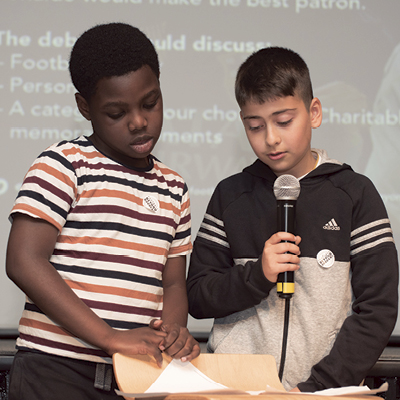 One team represented Barcelona's Lionel Messi, with the other fighting the case for Cristiano Ronaldo of Real Madrid. Ronaldo was victorious.
Established in 2009, FBB delivers a football-themed literacy curriculum alongside weekly football coaching sessions to develop team spirit. It also runs annual football tours for students who meet their targets for behaviour, attendance and academic performance.
Tom Treadwell, a teacher at Quest academy in Croydon, said: "FBB had a significant impact on my year 7 students. The pupils we chose were hard to engage, and I have seen a marked improvement in their attitude to learning and reduced number of behavioural issues.
"Perhaps most importantly, the project has helped them to be more aspirational and has given them something they take a huge amount of pride in."
The charity says that 40 participants who were involved in the first year of the FBB programme in 2014-15 improved their attendance, while the number of incidents of bad behaviour fell 27 per cent.
FBB currently delivers its schools programme to 320 students in schools across London and Wales.
Featured picture: A fresh crop of graduates from the FBB Schools Programme