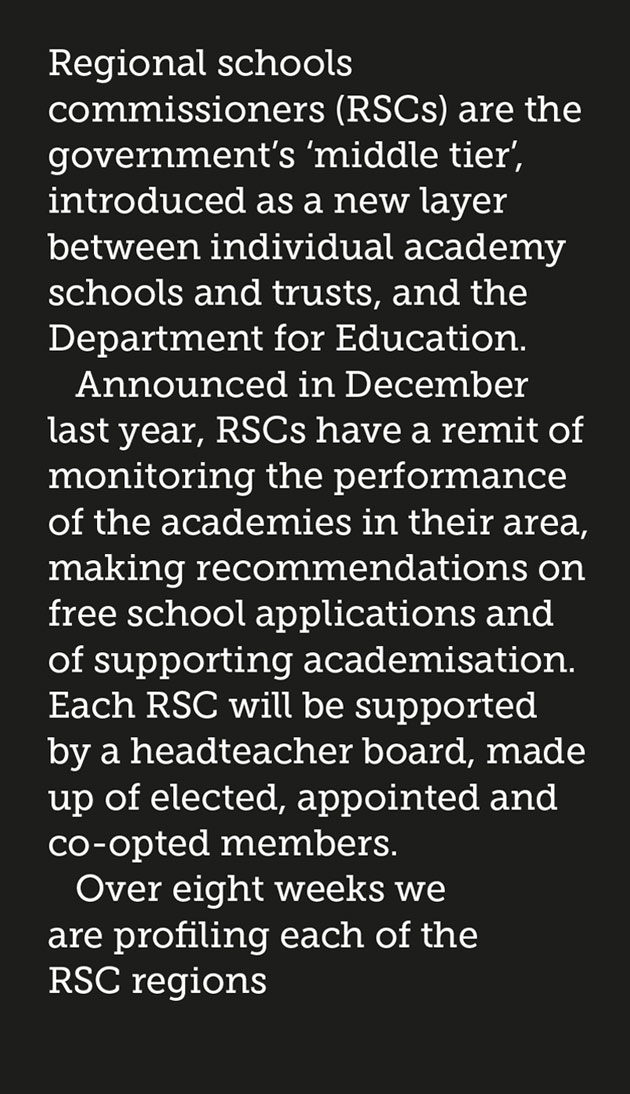 The new regional schools commissioners will mean more demands made on those seeking approval for academy projects, says Sir David Carter, RSC for south-west England.
Speaking to Schools Week, Sir David says that each headteacher board will now have more time to consider each proposal – resulting in better decisions.
"In last week's meeting we looked at eight different projects. And because we're not looking at 28, as you might be in London every week for the whole country, you can put more time into the process of 'are
we sure we're seeing a good approval,
or are there things we're missing?',"
Sir David says.
"As a result of that, we'll make better decisions locally because we're demanding more of the people who want their projects approved."
Sir David said that his board had met twice, each time focusing on GCSE results among secondary academies for signs of under-performance. This had helped members to draw up a list of schools
that his team will visit before the October half-term.
With a patch that stretches from Gloucestershire to Cornwall – and to the Isles of Scilly, although Sir David will be saved trips there for now, while the islands' one school remains under local authority control – Sir David says that he is having to adopt an efficient approach to getting around the region's schools.
Taking two-day trips to different areas, he is visiting schools that he says are on his "radar" – high-achieving schools or those where the headteacher board has concerns about performance. He is also holding open sessions for all academy principals on each visit.
Asked whether the board will co-opt additional headteacher board members, as each has the right to, Sir David says they may think about this after the October half-term – and that he will look outside the ranks of school leaders to fill the places.
"I'm pretty confident that it won't be another pair of headteachers. I think we're going to need somebody that's been a finance director … and the other one, I think, will be a chair of a trust, ideally a multi-academy trust."
Sir David was chief executive of the Cabot Learning Federation chain, which runs 12 academies in Bristol, South Gloucestershire, Weston-super-Mare and Bath.
Responsibility for any decisions concerning schools from Sir David's former chain has been handed to Dominic Herrington, RSC for the south-east England and south London region.
"I won't have any involvement with Cabot. On the one hand, there's an argument that probably nobody knows better than I do where they should be, but on the other hand they can't be seen to be treated differently. If they had a new project that needed approval that would completely be a conflict of interest.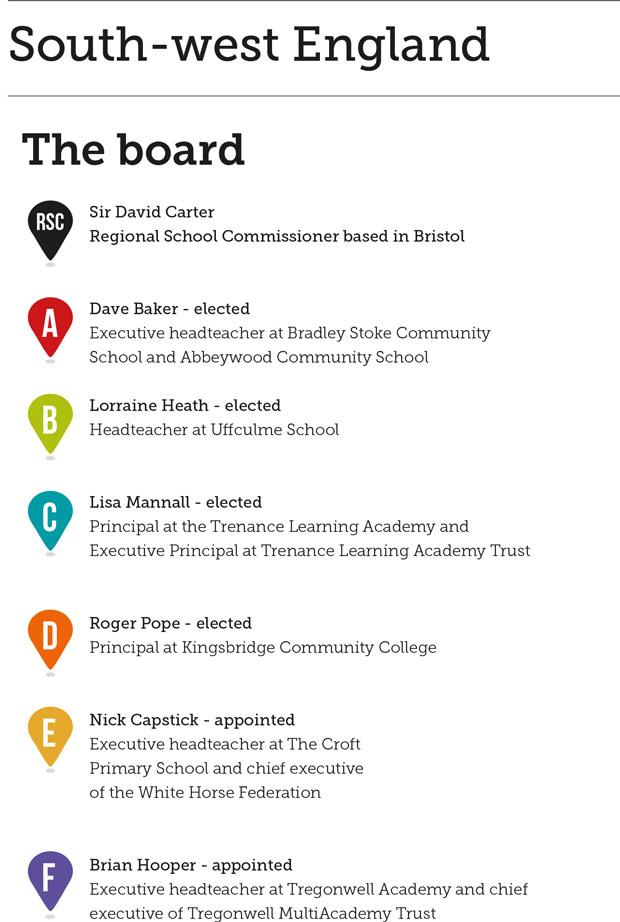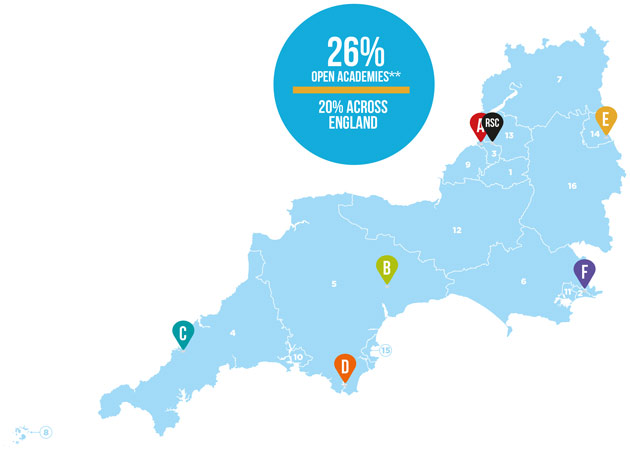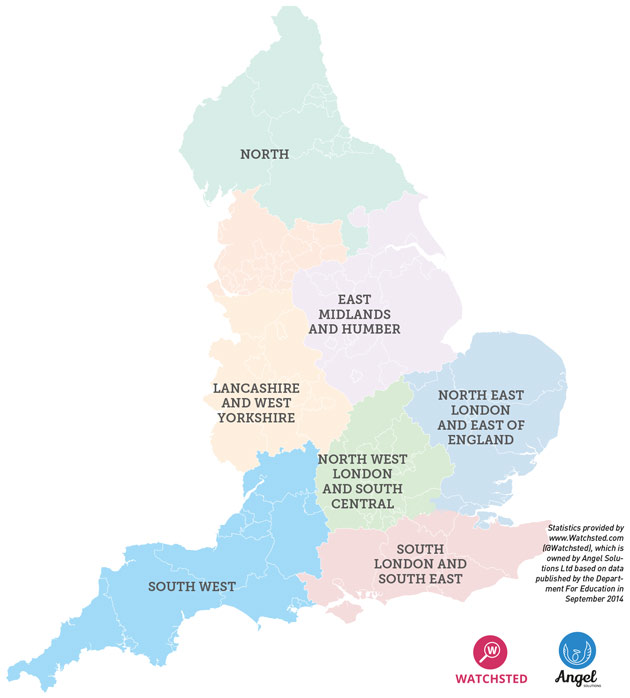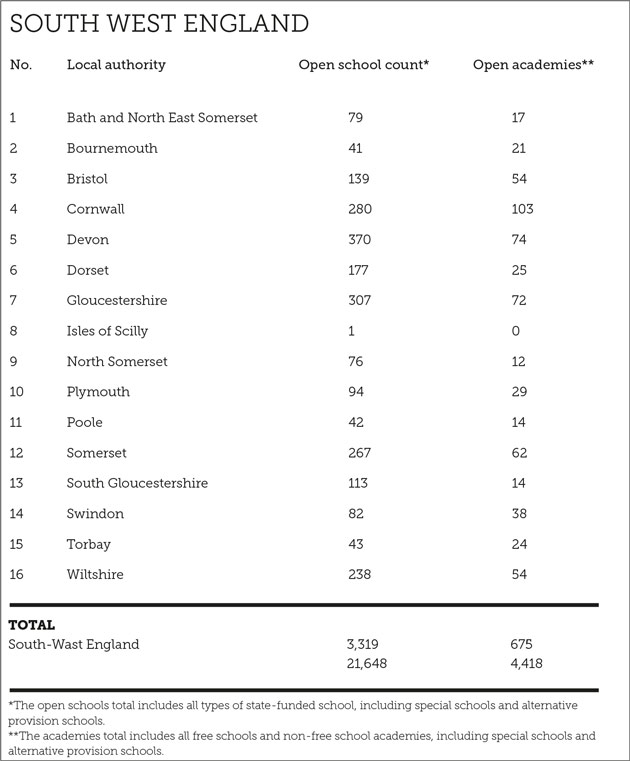 The data was collected with the help of Watchsted.com