Three groups of primary and nursery pupils have moved into local museums to test whether education in a museum setting results in better learning, social and cultural outcomes.
Pupils from two primary schools and a nursery in Tyne & Wear, Swansea and Liverpool will learn full-time in the museums for up to a term, as part of a King's College London project.
"My primary school is at the museum" takes the school classes directly into museums for their day-to-day lessons, including lunches and breaks.
The three pilots will "assess the benefits and logistics of a partnership model that could in future help to address some of the funding issues faced by both the education and museum sector, as well as provide learning and audience engagement benefits for both parties", a King's spokesperson said.
The pilot project will include Kensington Children's Centre, a pre-school nursery, which will be based at Tate Liverpool museum, a year 5 group from Hadrian Primary School in South Shields, which
will be based at Arbeia Roman Fort in South Tyneside, and a reception year from St Thomas Community Primary School that will be based at the National Waterfront Museum in Swansea.
The idea was conceived by architect Wendy James of Garbers & James, and then developed with King's.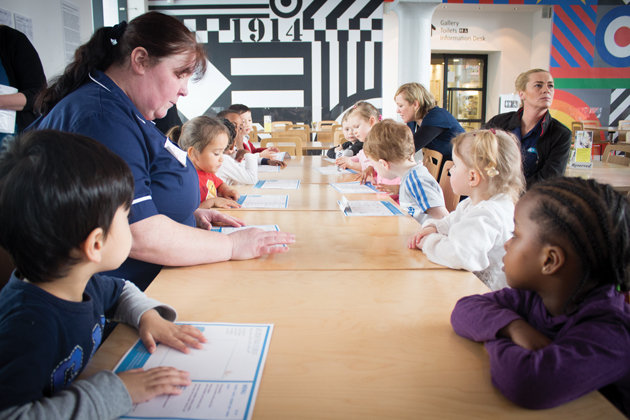 It was first tested in an "ideas laboratory" run by the cultural institute at King's, and supported under the institute's cultural space programme strand.
Additional support and advice for evaluation will come from Dr Jen DeWitt and Dr Heather King, researchers based in the department of education and professional studies at King's.
Wendy James said: "My work in the public cultural sector has increasingly specialised in education and museums. I strongly believe that there could be many creative benefits from children engaging with richly diverse object collections, for the pupils, their families, schools and museum.
"I am delighted at the opportunity to test such a partnership model between primary schools and their local museums and to develop the knowledge and understanding we need to shape what we hope will be the partnerships of the future."
The findings of the pilot will be published in autumn this year.
Main pic: Hadrian pupils at the Arbeia Roman fort