Sir Michael Wilshaw has said "too many academies do not receive effective challenge and support" and warned about them becoming isolated when not part of a multi-academy trust (MAT).
His annual report, published this morning, said he is "disturbed" by the number of converter academies which had declined since their previous inspection to requires improvement or inadequate.
Of the 89 which had declined, 66 were not in a MAT and of the 21 formerly outstanding schools which dropped to requires improvement or inadequate, 15 were not in a MAT.
Sir Michael said: "These figures are disturbing. We have to ask whether the necessary challenge, support and intervention for these academies have been put into place quickly enough.
"Since 1 September 2014, eight Regional Schools Commissioners have been responsible for overseeing academies, but it is too early to assess whether they have the capacity to perform this role effectively.
"I am also concerned about the level of confusion in the system over the exact role of local authorities in relation to academies and their pupils."
The report says of the 3,372 secondary schools in England, 60 per cent are now academies and of those "more than 2,000 academies are not part of a MAT…some have become isolated. Isolation can lead to underperformance."
The report adds: "Our analysis of academies that experienced a sharp fall in inspection grade last year shows that most had not made arrangements for external support and challenge until it was too late and serious decline had set in."
Additionally, the regional report for the West Midlands highlights continuing concerns following inspections prompted by the 'Trojan Horse' allegations.
"These inspections have called into question the nature and extent of the accountabilities associated with the high levels of autonomy currently enjoyed by academies. They also raise concerns about the effectiveness of the local authority to hold schools and governing bodies to account," the inspectorate said.
Headline figures from the report showed that primary schools are improving, with a three percentage point increase in the number of good or outstanding schools to 82 per cent. This compares to 71 per cent of secondary schools, a figure which has remained the same and leads to a warning that they are "stagnating."
A third of all free schools have so far been inspected and Ofsted, making it 'too early' to judge their overall performance.
However, Sir Michael has also called for less focus on the political debate around school structures – whether they are academies, maintained, or free schools – and more focus on "what works".
He said: "I believe the time has now come to move away from the debate that has raged for the past five years about school structures and towards a sharper focus on what works in all schools, regardless of their model or status.
"The essential ingredients for success are no secret and have been well documented from time immemorial strong leadership, a positive and orderly culture, good teaching and robust assessment systems."
Sir Michael is also concerned about the quality and quantity of teachers.
He said: "This is a pressing issue. More teachers will be needed to match the substantial increase in the number of school-aged children expected over the next 10 years. We also face a major challenge getting the best teachers into the right schools.
"Good and outstanding schools with the opportunity to cherry pick the best trainees may further exacerbate the stark differences in local and regional performance. The nation must avoid a polarised education system where good schools get better at the expense of weaker schools."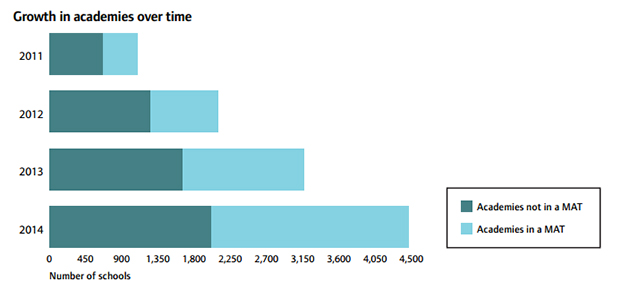 Source: Ofsted Sector report 2013/14: Schools, page 32, figure 11
Links to the annual report, report for schools and regional reports