An academy trust boss has boasted that he simply "flicked away" safeguarding complaints made by a whistleblower at a failing primary school.
In a tirade to staff at Birchen Coppice Primary Academy in Kidderminster, Andrew Morrish, the chief executive of the Victoria Academies Trust (VAT), threatened to uncover and "deal with" the anonymous whistleblower who had behaved in a "treacherous", "underhand" and "pathetic" way.
They hand this over to us. We just flick it away like we have and it's no further action
Morrish spoke to staff at the school after an employee wrote to Ofsted raising issues relating to safeguarding, trust expenditure and treatment of staff.
While reading out excerpts of the letter, Morrish told staff at the February meeting that he had narrowed the whistleblower down to "around 14 people", adding: "Even though it's got 'anonymous', I am determined to find out who is behind it. And whoever is behind it, I'll deal with."
The trust's whistleblowing policy says staff "must not threaten or retaliate against whistleblowers in any way". Anyone who does "will be subject to disciplinary action".
Morrish told staff that Ofsted "hasn't got time to deal" with anonymous complaints, so passed it on to the local authority, which "just laughs because it's birdshit".
"They hand this over to us. We just flick it away like we have and it's no further action."
Morrish, a national leader of education and former Ofsted inspector, also boasted of knowing a safeguarding team member "really, really well". "So they know full well, straight away, when these letters come through accusing me of doing stuff … They say 'I'm really sorry, we've got to deal with this. It's come through again'. So we just flick it away."
An Ofsted spokesperson said it must always pass on any information about individual safeguarding complaints to the local authority.
However, Ofsted said it "makes it clear that if the local authority wishes to share the information more widely, they must ensure they have explicit consent to do so from the individual who raised the concerns".
A spokesperson for Worcestershire council, which was passed the letter, said it was the responsibility of safeguarding advisers to handle complaints. The council would then "liaise" with the leadership team of a school.
Morrish said the council's previous safeguarding check on the school showed it to be "exemplary". The council did not respond when asked about what checks had been made on any possible conflict of interest.
Dr Mary Bousted, the joint general secretary of the National Education Union, said the case "demonstrates the inadequacy of legal protection available to public servants".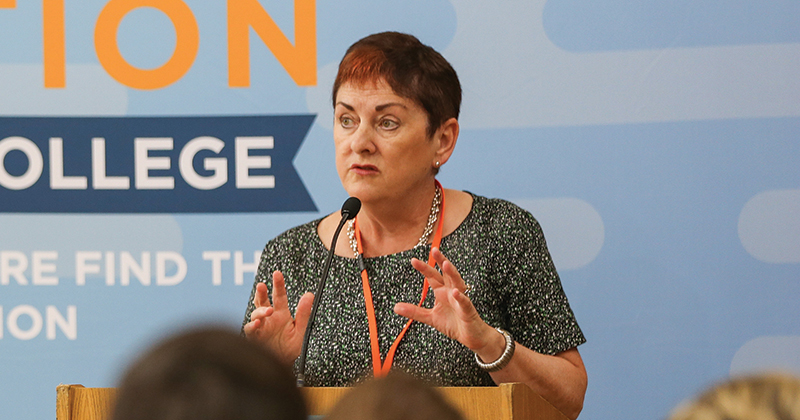 "The government and employers have said a great deal about encouraging openness and transparency in the workplace, but case law demonstrates both the inadequacy of legal protection for whistleblowers and the less than enlightened attitudes of some employers."
Bob Matheson, the head of advice and advocacy at Protect, the whistleblowing charity, also said the trust's reaction was "disgraceful".
"There's never really an argument where it's appropriate to try and identify or 'out' a whistleblower, and furthermore it looks like trying to intimidate a workforce to not raise concerns," he said.
The number of whistleblowing cases brought to Protect's advice line by people working in education has been slowly rising over the past few years, from 243 in 2012 to 382 in 2017.
Louise Taft, associate solicitor at Freemans, said it was "fairly unusual" for a complaint to "lead to something quite so blatant as suggesting the whistleblower will be dealt with".
In his speech to staff, Morrish accused the whistleblower of libel and "bullying", and insisted if they had written directly to him and "had the professionalism and the gumph to stand up and put their name down, it would be dealt with confidentially".
"Because it's written anonymously and sent to a public body, all bets are off," he said.
However, any employee can legally make a protected whistleblowing disclosure to either their employer or a prescribed body – which includes Ofsted – and must not suffer any disadvantage or "detriment" as a result.
Robert Maddox, an employment solicitor at Bindmans, said detriment could include a threat of libel action or a situation where "everyone is being held in some strange kind of quasi-investigation-based scenario where the employer is trying to find out who dared to make this complaint.
"Schools need to be much more aware of their statutory duty not to subject people to detriment for making public interest disclosures, ie, blowing the whistle, and it would be quite concerning if an organisation of significant size proceeded in such an adversarial way in circumstances that should lead to an open investigation into concerns raised," he said.
David Greenhalgh, the head of employment at Joelson solicitors, said it did not "seem right" for an employer to react to a whistleblowing complaint by "starting a witch hunt to track down the person who made it", and that it "would defeat the whole point of protection for whistleblowers".
"If a school becomes aware of the subject of the whistleblowing, it should be deciding if there is an issue that it needs to deal with in relation to the issues raised. Targeting or threatening action against a whistleblower would be the wrong approach altogether."
Following detailed questions from Schools Week to both Morrish and the trust, we were issued with a statement. It read that it was not appropriate to comment on individual complaints "as to do so may prejudice any future action the complainant may wish to take".
But the statement added that all complaints "regardless of the method of submission, the policy under which they are submitted or the body they are submitted to are taken very seriously and dealt with in accordance with trust policies.
"We have an open-door policy and actively encourage those with concerns to come and talk directly to us."
During the meeting at Birchen Coppice, Morrish said that the council had asked him to get staff to sign a statement to make it clear the school had an "open door policy" and that staff could raise concerns with unions. He told them they could not go home until they had signed it.
Morrish founded VAT in January 2014. As well as chief executive, he is listed as a trustee and was previously executive headteacher of two of its eight primary schools.
He regularly blogs about education and speaks at conferences, including the Association of School and College Leaders' national meeting last month.
The association's website said Morrish's speech, titled "The Golden Thread: Connecting vision, values, and culture in leadership", drew "on the experience of creating a successful multi-academy trust in which values-led leadership is the key driver, leaders can explore their own moral purpose and the culture and beliefs underpinning their own organisation".
Birchen Coppice Academy joined VAT in December 2017 after an "inadequate" Ofsted rating in July 2016. The trust said last year it was in the bottom four schools in England for key stage 2 results.
VAT runs eight primary schools. In its accounts, it describes Birchen Coppice as having a "significant deficit" with "significant staff reductions" made last year and continuing this year.
Whistleblowing fact check
A whistleblowing complaint is a disclosure of information made in the public interest that the employee reasonably believes to be true.
In order to be a protected disclosure, the complaint should be about a criminal offence, failing to comply with legal obligations, a miscarriage of justice, health and safety being endangered or damage to the environment, and show that information is being or likely to be deliberately concealed.
Any complaint should be based on fact rather than emotion, and give examples and evidence where possible. No action can be taken against a whistleblower if it turns out their complaint is incorrect but was made in good faith.
Most schools will have a whistleblowing policy in place. Employees can whistleblow to their employer or to a prescribed person or body. In the case of schools, this includes Ofsted, Ofqual and the secretary of state for education.
If a whistleblower has made a protected disclosure to their employer or a prescribed body, they should not be subjected to 'detriment' or put at a disadvantage as a result. Whistleblowers can take their case to employment tribunals if they feel they have been treated unfairly as a result of their complaint.
If a whistleblower requests confidentiality, the person or body they contact should make every effort to protect their identity.
Unions, the government website and whistleblowing charity Protect can all offer advice and guidance for anyone considering a whistleblowing complaint.