Teachers are less likely to trust Ofsted the longer they have worked in schools, a new survey has found.
The annual Ofsted attitude teacher survey, published today, also found that seven in 10 teachers think the watchdog exists to push the government's agenda, but found that inspections are getting friendlier.
The online survey, run by pollsters YouGov, involved 1,026 teachers and was carried out in February. The study aims to explore the perceptions of Ofsted and help improve how the inspectorate communicates with teachers.
Schools Week has the key findings:
1. Experienced teachers trust Ofsted less
The annual survey shows that just under a third of newly-qualified teachers (those in their first year) agree with the statement that the education watchdog is reliable and trusted at inspecting school standards.
However that figure drops to just 13 per cent for teachers who have been in the classroom for more than 16 years.
When looking at teachers who disagreed with the statement, 34 per cent of new teachers said Ofsted isn't reliable and trusted.
But that figure rises to 64 per cent for teachers with more than 16 years' experience.


2. A majority of teachers think Ofsted pushes government agenda
The survey also found that seven in 10 teachers agreed with the statement that Ofsted exists "primarily to help the government of the day advance its education agenda".
The inspectorate's independence was something chief inspector Amanda Spielman recently defended during an interview with Schools Week.
She said: "There is no departmental, or ministerial control – or indeed control by me – of the team that goes out to do an inspection. The process, top to bottom, is clear and straightforward."

3. Primary schools find inspections more stressful
Three quarters of teachers stated Ofsted inspections are "highly stressful for everyone".
But a breakdown of respondents showed that 82 per cent of primary teachers think this, compared with just 69 per cent of teachers in secondaries.
Of those that said inspections were highly stressful, 82 per cent of teachers said the recent myth-busting information Ofsted has put out had not made a difference to their senior leadership team, or in the staffroom.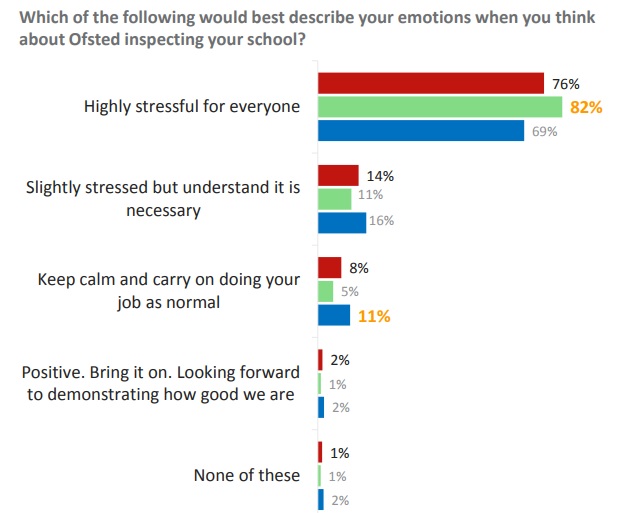 4. Inspectors are getting friendlier
But the survey suggests views to inspections are changing. Teachers inspected within the last 12 months are "significantly more likely" to have had a better experience, compared with those inspected between one and five years ago.
Plus, Ofsted inspection teams were described as "friendly and approachable" almost twice as often by teachers inspected within the last 12 months (15 per cent), compared with eight per cent for those who had inspections three to five years ago.
The majority of teachers said inspection teams are "professional but detached". One in five teachers stated they are "off-hand and intimidating".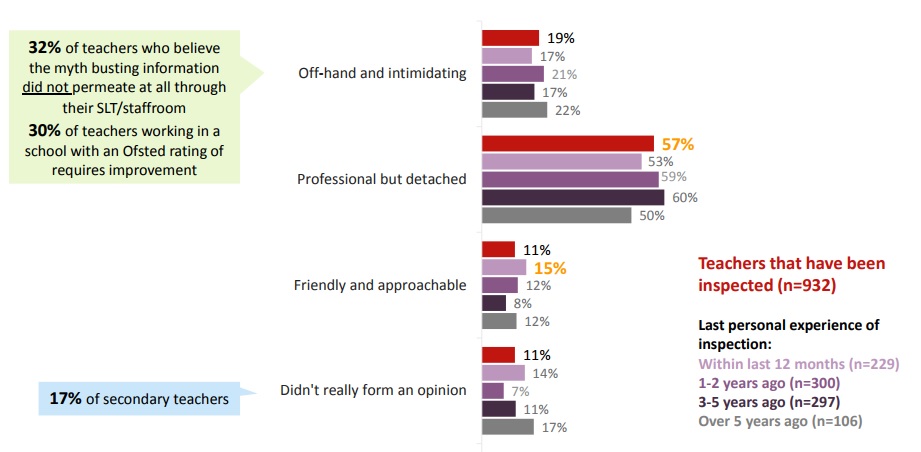 5. One in 10 teachers think their Ofsted judgment was too lenient
The majority of teachers (57 per cent) stated their Ofsted judgment was a "fair and accurate assessment of the strengths and weaknesses of my school".
A quarter of teachers thought the judgment was too hard, but 11 per cent of teachers said their rating was "too lenient, missing some problems".
Of those, 17 per cent were teachers working in an 'outstanding' school.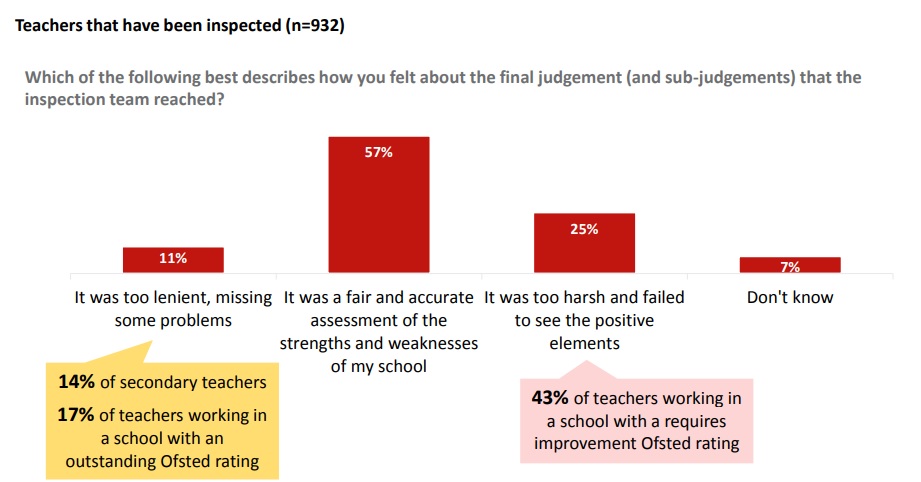 6. Teachers still think Ofsted favours child-centred teaching
Seven out of 10 teachers incorrectly reported that Ofsted prefers to see a "child-centred learning style".
Newly-qualified teachers were the most likely to believe this – with 89 per cent thinking Ofsted has a preference to the teaching style.
Experienced teachers were the most likely to understand that watchdog doesn't favour child-centred teaching.