The proportion of pupils being suspended from schools in England has risen slightly this year, with the government blaming the increase on youngsters being repeatedly excluded.
Data for 2017-18 shows that the rate of fixed period exclusions, or "suspensions", increased to 5.08 per cent from 4.76 per cent in 2016-17.
The rate of pupils being suspended is now the equivalent to around 508 youngsters in every 10,000.
The rise was driven by an 8 per cent increase in the number of suspensions handed out by schools, from 381,900 in 2016-17 to 410,800 in 2017-18. However, the number of pupils in schools also increased over that time.
The rate of suspensions has been increasing steadily since 2013 but it is still below the peak seen in 2006.
According to the government, the rate has risen because more pupils have had repeated exclusions.
In 2017-18, pupils who were subject to fixed-term exclusions were suspended on average 2.2 times.
"This has been increasing since 2012-13 having remained relatively stable since 2006-07," said the DfE.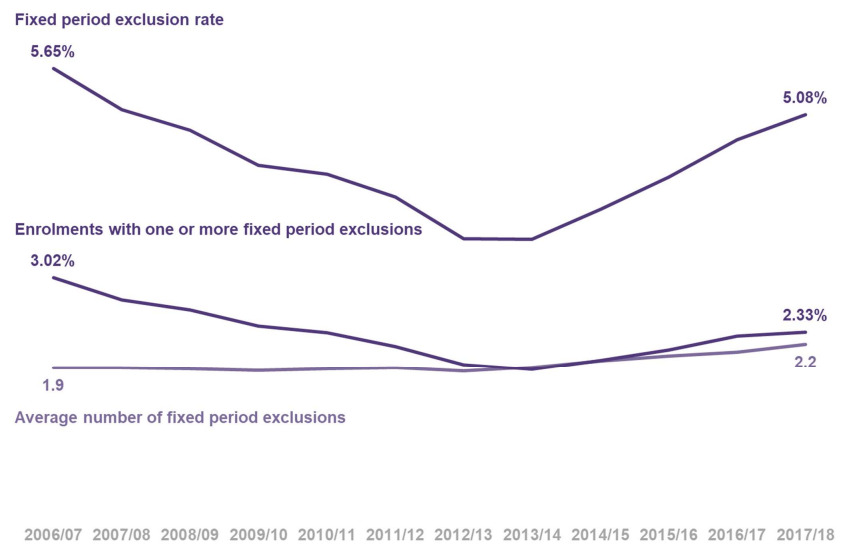 Although the number of permanent exclusions (or expulsions) increased from 7,700 to 7,900 over the same period, the rate of exclusion remained the same at around 0.1 per cent. This is due to increasing pupil numbers.
Persistent disruptive behaviour continues to be the most common reason for exclusion, but the number of permanent exclusions made for this reason has actually fallen for the first time in five years.