Brentwood School in Essex has become the first in the world to send an all-girl team to a new international robot fighting competition held in China.
The team of four 15- to 18-year-olds built a robot called SUSPENSION during the school's extracurricular robot club, which they pitted against others built by teams of professional engineers and amateur robot enthusiasts, at the King of Bots competition in Shanghai in October.
Team mates Juliette Skilling, Sabrina Skilling, Rebecca Ashcroft and Mary Hirst built the 110kg robot out of military grade steel, designing it to compete in a series of knock-out rounds, and to immobolise their opponents' creations.
Producers from the Chinese TV competition approached the school after seeing their appearance on the BBC's Robot Wars, which featured another team made up of robot club members.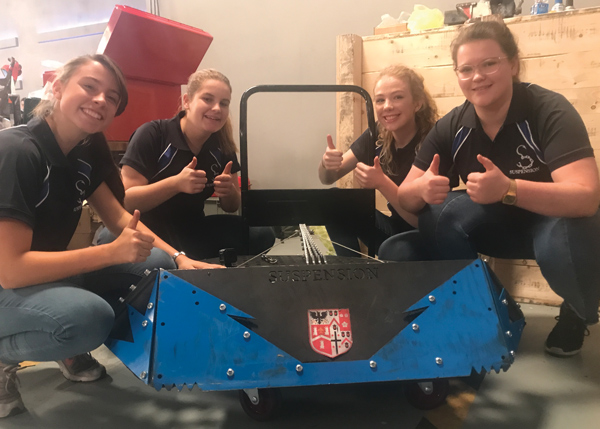 "We set up robot club a year ago. Before this, they knew nothing about robotics and had to research the subject before they were able to start building a fighting robot," explained Thomas Walland, a STEM coordinator at the school.
"The students have shown enormous dedication to the club, spending as much time as they can at the weekend and during their holidays designing and building."
Over 100 teams competed in the King of Bots show, which is hosted by the famous actor and martial artist Jet Li. Just one other school team took part, from Japan.
Despite experiencing problems with a loose connection during the competition, the Essex robot is now in better condition than when it left for China.
"The team are quite disappointed about it because they were hoping it would get a good amount of damage so they know what they could improve," Walland added.