A damning dossier of previously unpublished improvement notices has revealed substantial failings at some of the country's most prestigious independent schools.
Since July last year, 110 private schools have been handed statutory improvement notices by the Department for Education (DfE).
Ofsted guidance states the notices are issued when there has been a "substantial number of regulatory failures" and schools can be closed if they fail to act.
Documents obtained by Schools Week show private schools have breached the minimum independent school regulations 410 times over the past 16 months.
They include the highly coveted Royal Ballet School in London, billed as "one of the world's greatest centres of classical ballet training", and the £14,000-a-year Hill House School, once attended by Prince Charles.
Others ordered to improve include the Sylvia Young Theatre School in west London, which counts Amy Winehouse and Rita Ora among its alumni, and international boarding school Newbury Hall, which charges £35,000 a year.
The notices are not routinely published by the government, but were obtained by Schools Week and the Yorkshire Post as part of a joint investigation.
Melissa Benn, founder of the Local Schools Network charity, said the findings challenged the assumption that "independent schools have everything to teach the hard-pressed public sector".
The information, released under freedom of information laws, should be systematically "available to all", she said. "It does no one any favours – be it the pupils, parents, the school or the wider public – if problems can be concealed from public view. Transparency is an important principle."
The Royal Ballet School, based in Covent Garden, central London, and a Grade I listed Georgian house in Richmond Park, west London, was issued a notice in November
last year.
An earlier Ofsted inspection found pupil safeguarding was "not effective" and the system for vetting staff was "liable to error".
Hill House, based in Knightsbridge, central London, received two notices, in March and October this year, for a total of nine breaches.
In one notice the school was told it must meet requirements to provide suitable showers and outdoor space.
An inspection report published in March also criticised the school for breaching health and safety measures and said children were not making adequate progress in maths and writing. Both schools did not respond to requests for comment.
The Sylvia Young Theatre School, based in Marylebone, west London, which charges up to £4,500 per term, was told it did not meet child protection requirements.
Sylvia Young, the founder, told Schools Week the notice related to a small number of staff not having a second reference and medical declaration.
She said a no-notice inspection in May found the school now met standards.
Queen Ethelburga's College, in North Yorkshire, was handed a notice in July following concerns about the use of 700 CCTV cameras on the school site in an earlier inspection.
Headmaster Stephen Jandrell told the Yorkshire Post all points raised in the report were "fully attended to".
Newbury Hall, based in Berkshire, was pulled up for inappropriately lit, heated and ventilated accommodation.
Principal Jon Crocker said the school did not agree with large parts of the notice.
Our findings follow Ofsted's revelation last month that nearly four in five religious independent schools formerly inspected by the discredited Bridge Schools Inspectorate had been rated again and found to be inadequate or requires improvement.
One of those schools, Covenant Christian School, in Stockport, was issued a notice last month after failing to meet seven separate regulations – the highest of any school in our findings – and Ofsted said pupils were not safe.
But headteacher Dr Roger Slack said he felt harshly treated by the education watchdog, and most breaches were paperwork issues related to failing to follow "Ofsted methods".
He said the school had an excellent safeguarding record, and had since implemented most of its action plan to improve.
Analysis of the improvement notices shows schools failed to meet minimum standards for pupil welfare, health and safety on 113 occasions.
There were 58 breaches for premises and accommodation regulations and another 56 for the quality of leadership and management.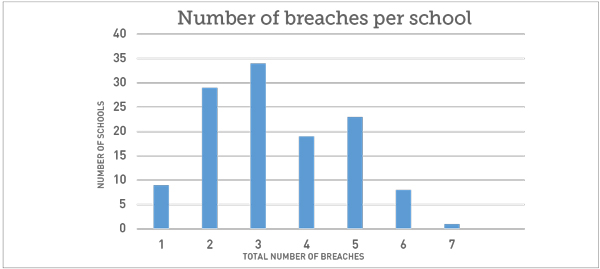 A spokesperson for the Independent Schools Council, which represents fewer than 20 schools on the list, said: "Most of our schools get these things right and those who don't should work quickly to make sure that they do."
The spokesperson said schools were rightly held to high standards, and while some reports highlighted serious breaches, many schools failed because of administrative processes.
A headteacher of one of the schools on the list, who did not want to be named, told Schools Week state sector colleagues "now stare in disbelief at the volume of our compliance-related documentation compared to theirs".
A DfE spokesperson said: "All independent schools must comply with the Independent School Standards, and where there are concerns a school is failing to meet these standards, we will take swift action."
Additional reporting by Billy Camden