The new chair of the education select committee has pledged to prioritise evidence from pupils and teachers instead of relying solely on "experts in quotation marks" and "people from very important think-tanks".
Robert Halfon, the former skills minister who narrowly beat Nick Boles to lead the committee in a vote of MPs earlier this week, told Schools Week that he is interested in hearing from "people actually working in the field" when the committee's work gets underway.
The MP for Harlow in Essex, who has emerged as a major critic of Theresa May's government after he was sacked as minister after the election, will start chairing committee meetings in the autumn term, and says he wants to hear evidence from practitioners and pupils alongside academic experts.
I want to make sure it isn't just experts in quotation marks
"[I want] to make sure it isn't just experts in quotation marks. That isn't to mock experts because I've got no problem with experts, but I want apprentices giving evidence, students giving evidence, people actually working in the field, not just having people from very important think-tanks coming to give evidence: so real practitioners."
Halfon said practitioners like teachers and school leaders "must be a huge priority in terms of the evidence we gather", and said he had learned more from visits to colleges and other institutions as a minister than he had from official briefings.
"The way I learned stuff as a minister was when I went on the visits," he said. "I learned more on the visits than any briefing paper or whatever it is. It really teaches you what's going on."
Analysis by Schools Week of inquiries held during the last parliament found that a tiny fraction of witnesses called during two years of committee work were serving teachers or school leaders.
Of 88 witnesses called during six inquiries directly related to the work of schools, just 12 were heads, academy chief executives or teachers.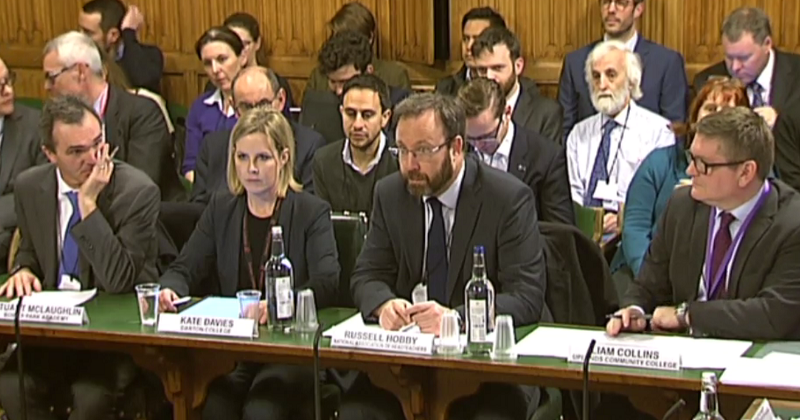 The rest were all academics, civil servants, ministers or leaders of organisations representing parts of the schools community, such as union bosses and subject association chiefs.
Halfon has also insisted that he is "not an establishment man", despite having been a minister. He has also previously served as deputy chair of the Conservative Party, and attended cabinet as minister without portfolio under David Cameron's premiership.
"I am there to scrutinise and investigate, and it's not about just causing trouble for the government, but it's genuinely evidence-based, scrutinising what's going on and also be a powerhouse of ideas."
Halfon said he wanted the committee to be "really transparent and open to the public", and said he was reviewing its approach to social media with committee staff.
Although Labour has put forward the names of five MPs elected by the party to serve on the committee, delays on the Conservative benches in announcing which five of their MPs will join Halfon mean the full membership of the committee may not be unveiled until September.
Labour MP Lucy Powell, the former shadow education secretary, joins committee veteran Ian Mearns, former teachers Emma Hardy and Thelma Walker, and James Frith, the former head of careers education social enterprise All Together, on the committee.