The government has announced it will proceed with the termination of Durand Academy Trust's funding agreement after the chain refused to sever ties with its controversial former highly paid executive headteacher.
The Education Funding Agency has issued Durand with a notice of intention to terminate its agreement, claiming the trust has failed to comply with six of eight requirements set out in an earlier warning.
This is not a decision we have taken lightly – Lord Nash
In July, the trust – championed by former education secretary Michael Gove – was told to address concerns over finances and potential conflicts of interest and sever ties with its chair of governors and former executive head, Sir Greg Martin (pictured).
Schools Week revealed last month that the trust had refused to meet the demands and vowed to fight any termination in court, claiming the EFA had "no right" to ask for the changes to be made.
A government spokesperson said today that education secretary Justine Greening was "not satisfied" with the reasons given by Durand for refusing to comply with the requirements, nor the "limited" steps the trust agreed to take since the initial notice was issued in July.
Lord Nash, the academies minister, said the initial warning was given because of "serious concerns about financial management and governance", and said the decision to terminate had "not been taken lightly".
"It has been done to safeguard the future education of Durand's pupils and to ensure public money and public assets intended for the education of children are managed effectively," he said.
The termination letter gives the trust a year's notice, after which the government can either find a new sponsor or close the school.
The EFA has also revealed that it extended the deadline for Durand's response to the demands by three weeks after receiving an "interim response" on August 1. Chief executive Peter Lauener has clarified that this was done to "put it beyond doubt that DAT had a full opportunity to respond".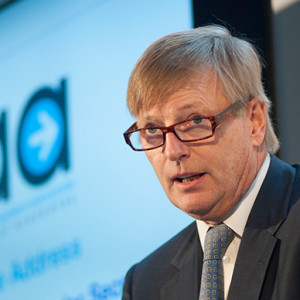 Most of the government's original demands related to the structure of the trust and conflicts of interest surrounding its association with several other organisations.
They included Durand Education Trust, which owns land occupied by Durand Academy in Lambeth and has been under investigation by the Charity Commission, and London Horizons Limited, which runs the school's leisure facilities on a commercial basis.
The conditions also sought to sever all links between the academy trust and Martin, who was told to resign as chair, leave the trust's board entirely and vacate "any other position" within the academy trust by August 1, but did not do so.
Martin, who resigned as head last year, faced criticism from MPs after it emerged he was paid more than £400,000 in salary from the school and management fees from London Horizons.
According to the EFA, the trust also failed to ensure that none of its other directors were on the boards of Durand Education Trust, London Horizons Limited or GMG Management Resource (UK) Ltd, a company owned by Martin, by August 1.
Executive headteacher Mark McLaughlin, who was ordered to either resign his headship or any positions with Durand Education Trust, London Horizons or "any company of which Sir Greg Martin is a director or has a shareholding of over 5 per cent", last month launched an extraordinary attack on the government.
In an exclusive interview with Schools Week, he said: "We will fight this vigorously. Our lawyers' advice is they have no right to ask for these things to be done. The problem is that we have stood up to the EFA – a lot of schools are unhappy with them.
"Michael Gove [the former education secretary] gave schools the opportunity to be creative and independent, but since he's gone the civil servants just run it. They are unelected, unaccountable and are suffocating headteachers from doing their jobs.
"It's [Durand] unique and different, but difference isn't to be welcomed. Civil servants have to tick their boxes. It's outrageous what these civil servants are doing."