The government handed out nearly £4.5 million to prop up cash-strapped academies run by the failed Schools Company Trust during the year it announced closure.
A Schools Week investigation has also uncovered that the new trusts brought in to take over the Schools Company academies will now be saddled with repaying most of the debt.
The handout to Schools Company was part of £27 million in deficit funding that the government paid to struggling academies in 2017-18, figures obtained by Schools Week show.
The figure has ballooned in recent years – with just £8 million paid out to academies in the three years prior to 2016.
Schools Company was stripped of all four academies – three pupil referral units (PRUs) and a mainstream school – in June amid growing concerns about safeguarding, governance and finances at the trust.
Accounts for 2016-17 showed Schools Company was expecting an £8 million deficit, after overspending by £800,000 in the four months to December 2017, alone. Its accounts for last year have not yet been published.
The deficit funding figures, obtained after a freedom of information request, show the mainstream Goodwin Academy, in Kent, got over £3 million. Nearly £250,000 did not have to be paid back.
The Central Devon Academy received £1.1 million in recoverable funding.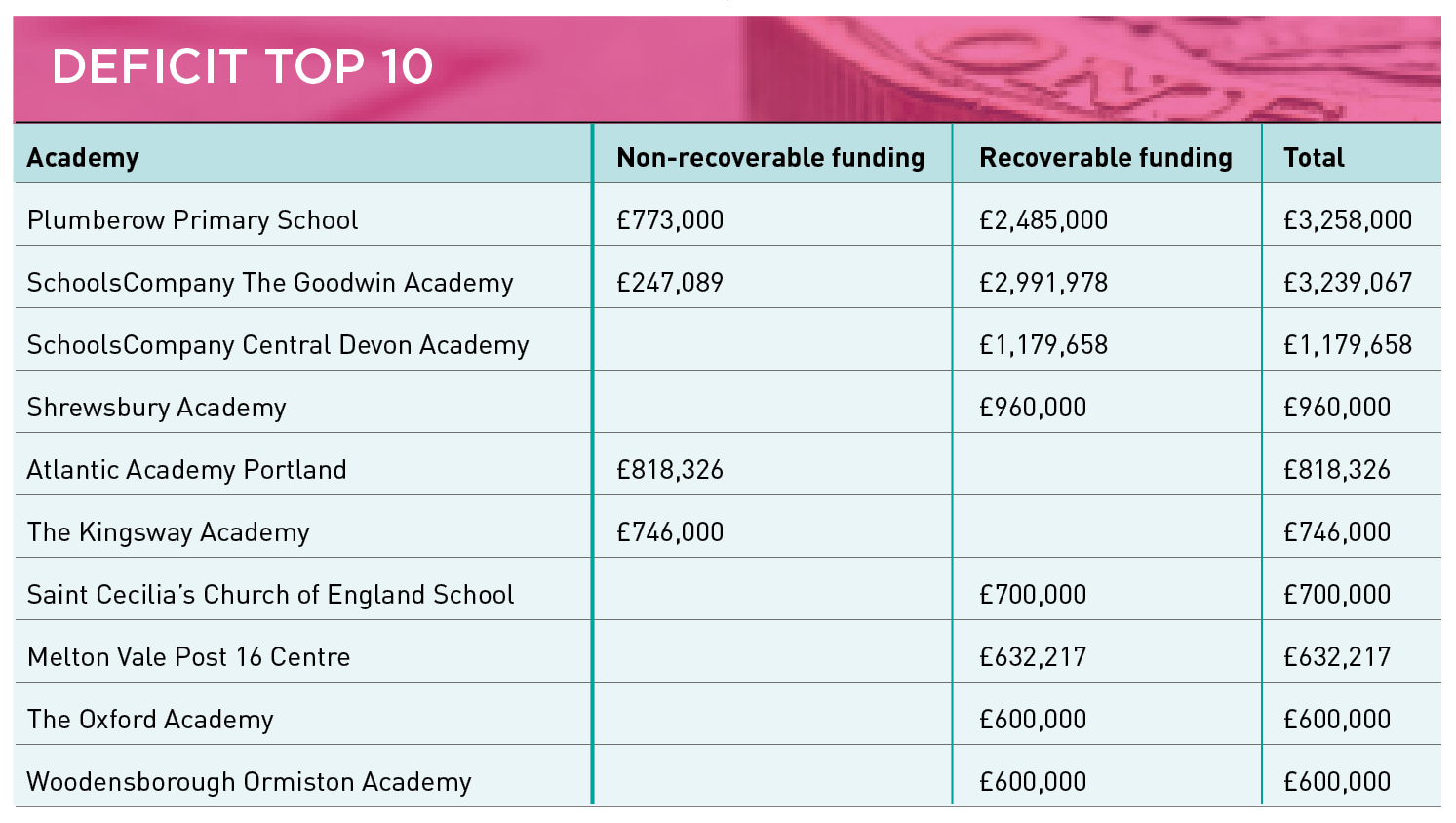 However, annual accounts for the Goodwin Academy, which joined Thinking Schools Academy Trust in September, state the ESFA will now wipe off at least £1.6 million of the debt.
TSAT took on liabilities of £2.6 million, but the ESFA has "agreed they will not seek more than £1 million" back.
Dover and Deal MP Charlie Elphicke, who has called for the debt to be wiped, said it was "welcome".
"I keep making the case that this debt was built up on the DfE's watch – so they should take responsibility for it, not hard-working students and teachers."
The three PRUs joined Wave Multi-Academy Trust, but the trust refused to comment.
The DfE confirmed some recoverable funding debt had passed over to the new trusts, and it would be claiming back the debt when it was affordable for the trusts as well as exploring other options to recover the money.
The £27 million in deficit funding was shared between 77 academies. Nearly £6 million does not have to be paid back.
One other school received more than a million in deficit funding last year. Plumberow Primary Academy, run by Academies Enterprise Trust, got funding totalling more than £3.25 million, of which £773,000 doesn't have to be paid back.
An AET spokesperson said the money was part of a wider 'turnaround strategy' agreed to support AET centrally.
The Shrewsbury Academies Trust's* Shrewsbury Academy was given £960,000 in recoverable funding.
Atlantic Academy Portland, run by the Aspiration Academies Trust, received £818,000 non-recoverable funding. The school was formerly known as the Isle of Portland Aldridge Community Academy, sponsored by the Aldridge Foundation, but was rebrokered in September 2017. The Isle of Portland academy also received £485,000 in non-recoverable funding last year.
The Kingsway Academy, run by the Northern Schools Trust, received £746,000 non-recoverable funding before it closed in August last year. Standalone academy Saint Cecilia's Church of England School received a recoverable loan of £700,000.
Julia Harnden, funding specialist at the Association of School and College Leaders, said there was a "difficult balancing act" for the DfE to achieve.
"On the one hand, it is important that the government takes a supportive approach in order to provide pupils with stability," she said. "On the other, it is a responsibility to safeguard public money."
A "series" of ESFA investigations into Schools Company are ongoing, looking into potential financial malpractice and examining conflicts of interest and related-party transactions.
A spokesperson for the DfE said: "Additional funding was required to stabilise the trust during its transition to new sponsors, and to ensure pupils at the schools continued to receive an education.
"We are exploring options to recover funding and hold those responsible to account."
*this was corrected from Ormiston Academy Trust