The gender pay gap at the Department for Education has increased by 5.7 percentage points in favour of men.
As of March 2020, men on average earned 7.9 per cent more than women at the Department, compared with 2.2 per cent the year before, according to a new report.
The gender pay gap was previously recorded as 5.3 per cent last year, but has been amended following a change in the way the department calculates the difference.
The DfE previously calculated the gap using the difference between men and women's hourly rates of pay in March each year.

However, the report explains that this year the department's calculation method has been adjusted to use annual salaries in March 2020 to calculate hourly pay.
Under the previous method the department's gap had slowly been decreasing in recent years, dropping from 5.9 per cent in 2017 to 5.3 per cent last year.
The DfE's analysis of the reasons behind the leap in the gap this year found it was "largely driven by a change workforce composition over the last 12 months including an overall increase in females including at the junior grades."
It found there was a "significant increase" in the number of women working in the department which increased from 53.4 to 58.1 per cent – representing 650 women.
"While the department has more women than men at all grades, because there are more junior staff than senior staff within the department, this results in a lower overall median for women."
Elsewhere the department has made progress with its bonus gap, eradicating it completely by decreasing it from 3.8 per cent last year to zero per cent.
In 2020 women were slightly more likely to receive a bonus than men and are on average receiving similar amounts.
The bonus gap was previously 2 per cent in favour of women in 2018 and there was no gap in 2017.
The median gender pay gap across the civil service as a whole in 2020 was 10.3 per cent in favour of men.
Ofsted pay gap favours women for first time (but bonus gap doubles)
At the same time Ofsted has revealed its gender pay gap has increased from zero per cent last year to 6.2 per cent in favour of women.
This is the first time the schools watchdog has reported a median gender pay gap in favour of women and this is attributed to the restructuring of its early years workforce – which led to an increase in the female population in the upper-middle earnings quartile.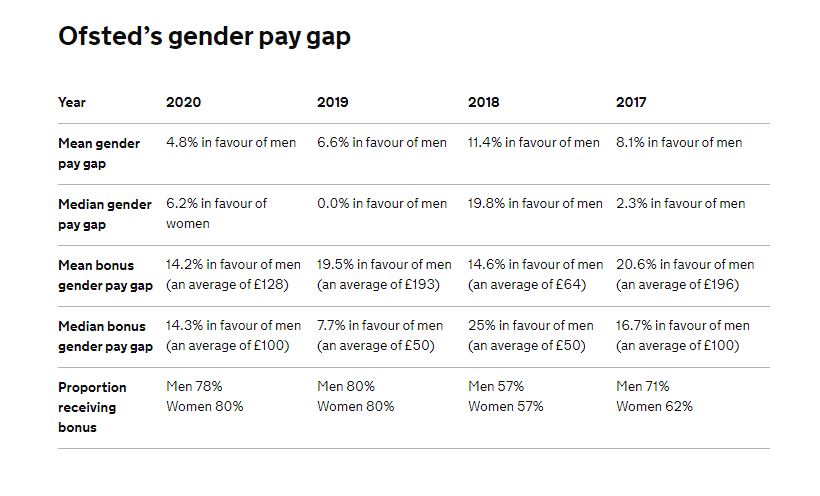 However the watchdog's bonus gender pay gap almost doubled from 7.7 per cent to 14.3 per cent in favour of men.
The proportion of women receiving a bonus at Ofsted was actually higher than men at 80 per cent, compared with 78 per cent for men.
But the report states that men "tended to receive a higher value bonus".