The government has published incorrect guidance in a leaflet aimed at helping schools explain to staff, pupils and parents how the mass testing programme will work, leaders have been told.
The Confederation of School Trusts (CST) wrote to its members today warning a Department for Education leaflet "contains errors and will be corrected today".
The leaflet was published on Friday as part of guidance on how schools would administer asymptomatic testing from January, along with a template for letters to send parents and consent forms to carry out the tests.
Point four and five of the leaflet suggest an adult will be administering the test to pupils.
It states: "To start you will be asked to open your mouth widely and say 'ahhhh' so a swab can be gently rubbed on the back of your throat.
"After 10 seconds, your testing helper will carefully remove the swab and gently place it up one of your nostrils".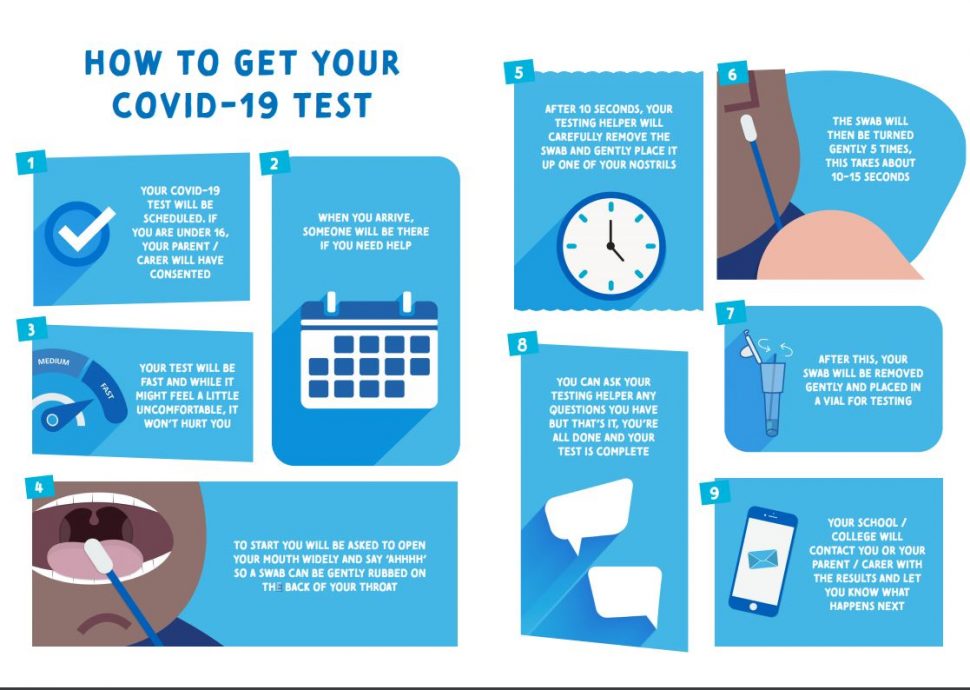 But Leora Cruddas, CST's chief executive, said: "It reads as if an adult is going to administer a test on a child, that's not correct because the tests will be self-administered by most secondary-aged pupils".
She explained while this may not be the case for vulnerable pupils or those with SEND, the majority of tests would be self-administered and "overseen by an adult".
In a letter sent to headteachers on Saturday night, education secretary Gavin Williamson stated:"Secondary age children can do their own 'swabbing', so the staff are not carrying out a procedure on a child, but organising the process and ensuring the results are supported".
A handbook by NHS Test and Trace, circulated to schools last week, states the tests will be conducted "either by trained personnel or as a self-test with supervision from trained personnel, with results in around 30 minutes".
Cruddas said the CST had written to members to clarify the mistake as they "didn't want the wrong information to get out" and leave schools and trusts thinking they would "have to physically administer the tests to every young person".
Schools were advised to enclose the instructional leaflet "with some more information" to parents and pupils in a bid to explain how the testing works.
The government announced last week that rapid-result lateral flow tests will be sent to all secondary schools and colleges from January.
As part of the regime, staff will also be tested weekly and pupils and staff identified as close contacts of confirmed cases will be tested daily for seven days – enabling them to stay in school.
Elsewhere, CST told its members that £78 million of funding, around £15 per pupil, would be made available to "meet additional workforce costs" brought on by the mass testing but this has not been confirmed by the DfE.
The link to the leaflet has since been updated with a version containing the correct information and the DfE said it will email schools to make them aware of the error.