Secondary schools in England should be planning "achievable work" for pupils studying at home, as well as ways to give them feedback and check progress, the Department for Education has told parents.
In what appears to be a stepping up of expectations on secondary schools, new guidance for parents and carers published today sets out what they can expect of their children's schools.
It also states that schools are "working quickly to adapt to the current situation, producing new materials and ways of teaching", and that parents with "concerns" about their children's education or how work is being set for them should "not hesitate to speak to the school and let them know".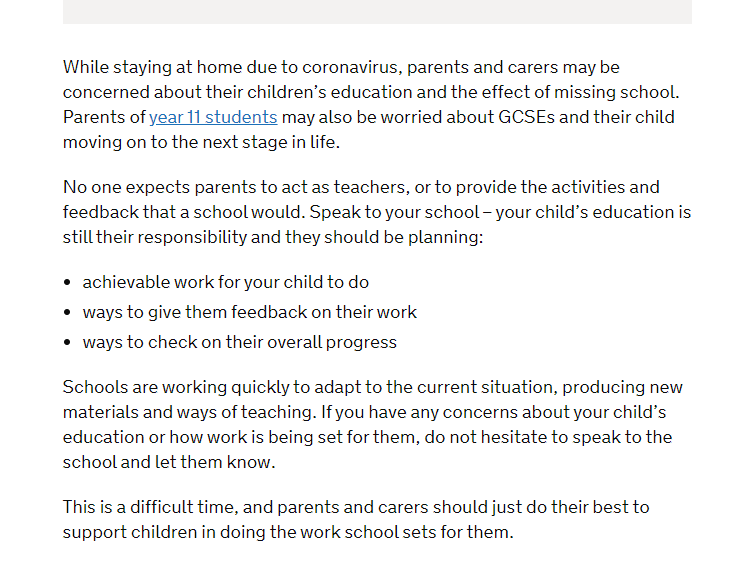 The guidance states that secondary schools should be planning "achievable work for your child to do", "ways to give them feedback on their work" and "ways to check on their overall progress".
The language is stronger and more specific than existing guidance for schools, which states that schools "should use their best endeavours to support pupils attending school as well as those remaining at home, making use of the available remote education support".
Updated guidance for parents of primary school pupils, also sent out today, is also less firm. It simply states that primary schools "will be planning work" for children to do.
The government announced earlier this month that it wants the phased return of pupils to schools to begin on June 1, starting with children in reception, year 1 and year 6.
However secondary schools have only been told to provide some "face-to-face support" for year 10 and 12 pupils from that date. They are not expected to welcome other year groups back before the summer holidays.
The new guidance for parents comes after a number of high-profile figures claimed schools were not doing enough to support children at home.
Former education secretary Lord Blunkett and ex-schools minister Lord Adonis  are among the politicians who have expressed concerns about the impact of partial closures, particularly on disadvantaged pupils.
Ofsted's chief inspector Amanda Spielman has previously called for proper guidelines for what should be expected from schools on home learning.