Around 1,500 schools have now been forced to partially close, with as many as one in six secondary schools not open to all pupils, new government figures show.
According to the Department for Education's latest school attendance survey data, 84 per cent of state-funded secondary schools were fully-open to all pupils as of last Thursday, September 24.
This is down from 92 per cent the previous week, and means around 16 per cent of state secondary schools – equating to around 550 schools – were partially closed as of Thursday.
Overall, the DfE data shows that around 1,500 schools were partially closed. The department said that of those not fully open, this was mostly due to Covid-19 related reasons.
As a result, attendance in state secondary schools decreased from around 86 per cent on September 17, to 84 per cent on September 24, the DfE said.
The picture was more positive at primary schools, though. Ninety-five per cent of state-funded primaries were fully open as of last Thursday.
Attendance in state primary schools also increased, from around 88 per cent to 91 per cent over the same period.
Overall, the proportion of all state schools that were not fully open as a result of Covid-19 rose to 6 per cent last Thursday, up from 4 per cent the week beforehand.
Attendance among all state-funded schools is 88 per cent – which has been "broadly stable" for the past three weeks.
It comes after Public Health England reported a sharp rise in the number of Covid-19 confirmed clusters or outbreaks in educational settings, from just over 100 in the week to September 13 to 248 in the week to September 20 (see graph below). The highest number "were reported through secondary schools", PHE said.
The latest surveillance report also shows that educational and workplace settings had the "highest increase" in the overall number of acute respiratory infection incidents reported to PHE health protection teams.
Incidents in educational settings accounted for 341 of the 772 acute respiratory infection incidents in the week in question.
National schools commissioner Dominic Herrington said last week that schools having to fully and partially close and then reopen will "become a way of life" until a coronavirus vaccine is found.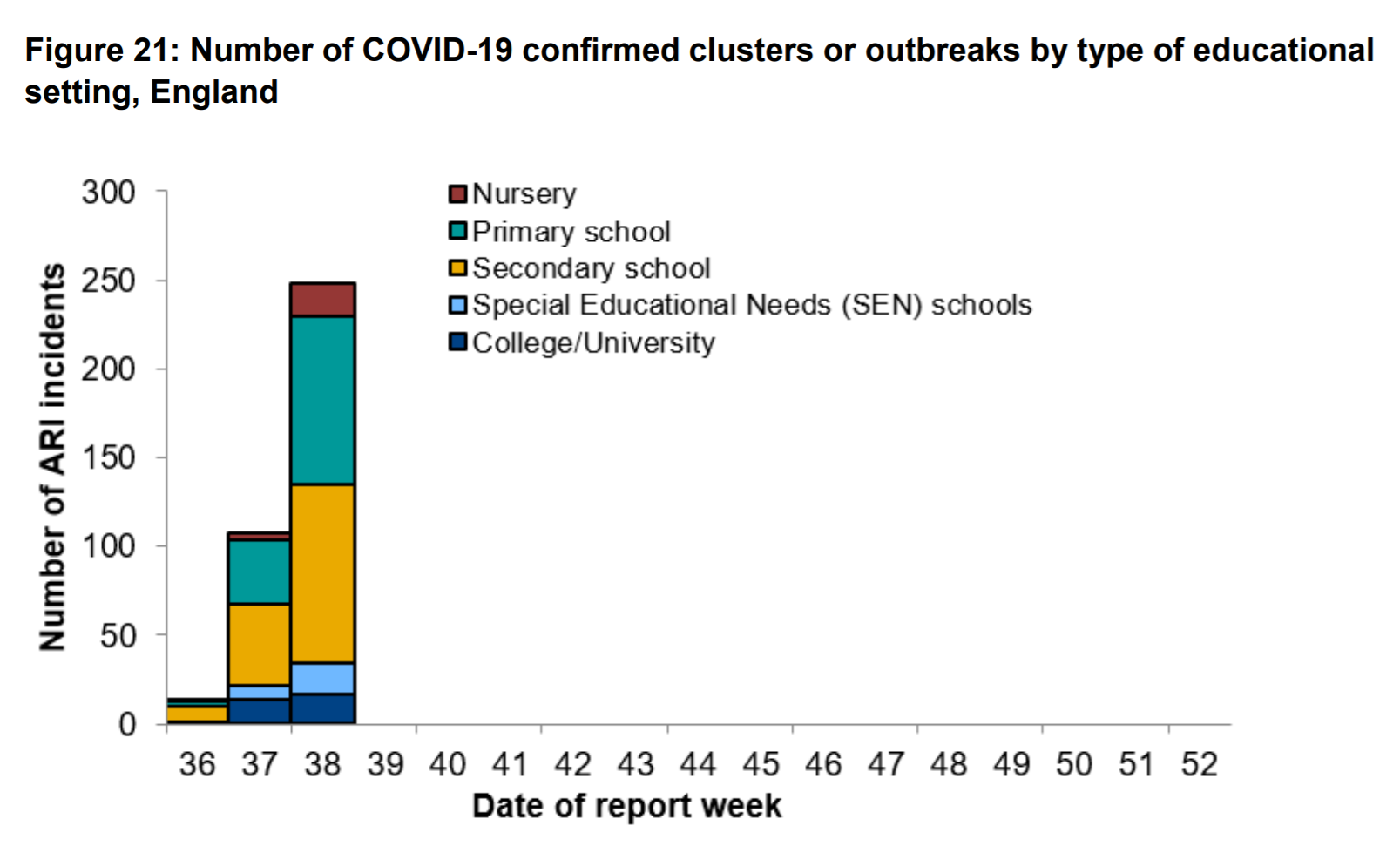 Gavin Williamson, the education secretary, defended the attendance figures, saying it was "encouraging to see that the vast majority of schools remain open".
"Only a small minority of pupils are currently self-isolating and there is remote education provision in place for the short time they are unable to attend school," he said.
"I'm hugely reassured schools have the right protective measures in place to reduce the spread of the virus, and are only asking close contacts of confirmed cases to self-isolate. I want to thank teachers and leaders for all they are doing to make sure pupils can access the education they deserve."
But Geoff Barton, general secretary of the Association of School and College Leaders, said he was "extremely concerned to see a drop in the number of secondary schools fully open due to Covid cases and the resulting requirement for groups of pupils to self-isolate".
"This reflects the extremely difficult circumstances in which schools are operating amidst rising infection rates in the community."
He said ASCL continued to receive reports of problems with Covid-testing, and said it was "increasingly clear that schools have effectively found themselves on the frontline of managing the public health emergency, as well as delivering education".
"The pressure on school leaders and their staff is immense, and we are concerned that it is unsustainable over the long term, and will result in deteriorating mental health and wellbeing."