More than half of teachers say their mental health has declined during the Covid-19 pandemic, with the lack of timely government guidance cited as their biggest challenge.
A new report from Education Support assessing the impact of coronavirus on education professionals' mental health found 52 per cent of teachers felt their mental health and wellbeing had suffered either considerably or a little.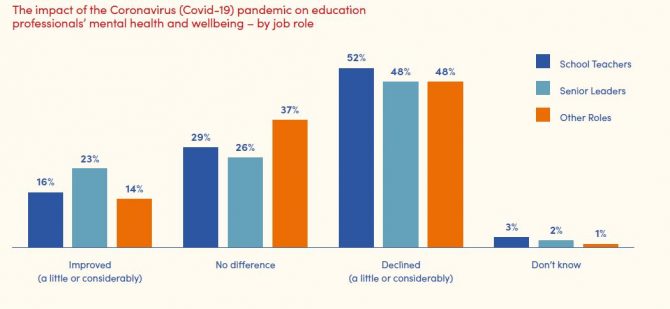 In addition to this 48 per cent of senior leaders reported a decline in mental health, along with 48 per cent of all other education professionals.
The findings suggest the mental health of those working in education has suffered more than those in other professions – with a study from the University of Manchester and University of London finding 27.3 per cent of 17,452 people surveyed reporting a level of mental distress that is 'potentially clinically significant'.
The report, based on a YouGov survey of more than 3,000 education professionals, also sets out the biggest challenges faced by those in the sector.
A lack of timely government guidance was said to be the most challenging aspect of working during the pandemic – with 49 per cent of staff working from their usual school site and 39 per cent of those working from home complaining of the issue.
Other challenges included workload, supporting pupils and maintaining a work/life balance.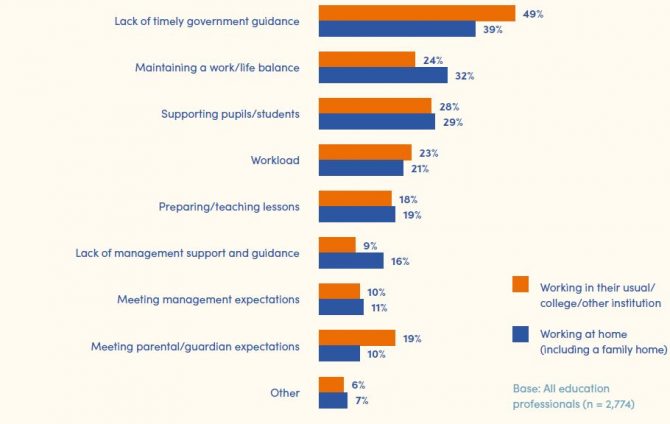 The report follows on from analysis from Schools Week which found the government published nearly 100 guidance updates between mid-February and June – a quarter of which were published during antisocial hours.
Unions bemoaned the constant bombardment of last minute guidance, the "sheer number" of updates and the "anxiety they create" within leaders fearful of missing them.
Sinéad Mc Brearty, CEO of Education Support, said: "In this environment of uncertainty, it is paramount that government actions demonstrate that it respects, values and places trust in the education profession."
Elsewhere the report explored the relationship between the government and the education profession during the pandemic.
It found just 15 per cent of education professionals felt appreciated by the UK government – with those taking part indicating they felt most appreciated by colleagues (81 per cent) and their senior management team (72 per cent).
A Department for Education spokesperson said: "We are enormously grateful to the teachers and school staff who have gone to great lengths to ensure children can get back into their classes safely this term.
"The government has invested millions in mental health charities and in support for teachers, including a new £8 million training programme run by experts to tackle the impact of coronavirus on pupils, parents and staff, as well as funding for the Education Support Partnership to provide online peer-support and telephone supervision from experts to around 250 school leaders.
"The Wellbeing for Education Return training programme is supporting staff in schools and colleges to respond to the additional pressures some children and young people may be feeling as a direct result of the pandemic, as well as to any emotional response they or their teachers may still be experiencing."