Pupils performance in this year's autumn exam series will be based on pupil performance in the tests alone, not on any non-exam assessment, Ofqual has confirmed.
The exams regulator has published its decisions following a consultation on the autumn series, which will allow students who are not happy with their summer calculated grades to sit an actual exam.  Only art and design qualifications will be assessed based on non-exam assessments.
Ofqual has also confirmed that exam boards must make exams available in all GCSE, AS and A-level subjects. However, exam boards will be allowed to withdraw an exam if there have been no entries by the closing date. 
Exam boards must also issue replacement certificates for the summer results if students request them, and boards must adopt the normal arrangements for reviews of marking and appeals.
The majority of the proposals set out in the consultation document, published in May, have been implemented. AS and A level exams are expected to be held in October, with GCSEs in November, but exact timings are to be confirmed in "due course".
Ofqual said it had "listened carefully" to responses about what the grades should be based on, including arguments about the role non-exam assessment (NEA) plays in assessing aspects of a subject's content that cannot be assessed by exam. 
Overall, 46 per cent of respondents agreed with the proposal, while 39 per cent disagreed citing concerns including the "de-motivating" effect on students if work they had completed before school closures was disregarded.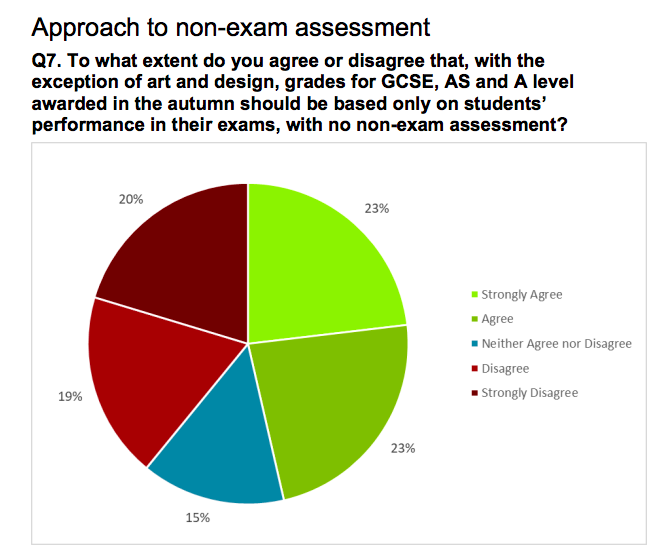 There were also concerns about the possible impact of removing NEA for some students, including those with special educational needs.
Research published today by Ofqual, which appears to underpin its decision, claims there is "little evidence" coursework has any impact on outcomes for students of different socio-economic statuses, or those with special education needs.
This study includes data from six academic years between 2004 and 2017 and, within those years, it focused on specifications in five different subject areas.
"While it would be desirable for the autumn series to include NEA, on balance we believe the issues of manageability and fairness raised with us could further disadvantage some students and that it is not in students' best interests overall," Ofqual said.
The only exception would be for art and design qualifications, where a new "task", which is technically an NEA, would be set.
The Association of School and College leaders has expressed concerns about how schools will be able to accommodate and manage a full suite of autumn exams alongside bringing all pupils back in September.
Geoff Barton, ASCL's general secretary, added: "We had argued for the autumn series to be restricted to A levels, and GCSE English and maths.
"However, we understand the pressure on the government and Ofqual to provide the option of a full suite of exams in the event that pupils and parents are unhappy with centre-assessed grades in August.
"We would reassure pupils and parents that the process for centre-assessed grades is robust. These qualifications will be every bit as valid as in any other year and will allow young people to progress to the next stage of the lives without hinderance, and without the need to use the autumn series." 
Ofqual said it understood the "logistical challenges" schools and colleges will face this autumn, and will continue in-sector talks.  
It added that the Department for Education is exploring ways to minimise additional burdens on schools.