Murderers, paedophiles and heroin dealers are among thousands of convicted criminals who have applied to work in classrooms across the country, Schools Week can reveal.
Our investigation found more than 16,000 people with criminal convictions applied to work as a teacher or teaching assistant in the past three financial years, despite having more than 44,000 offences between them.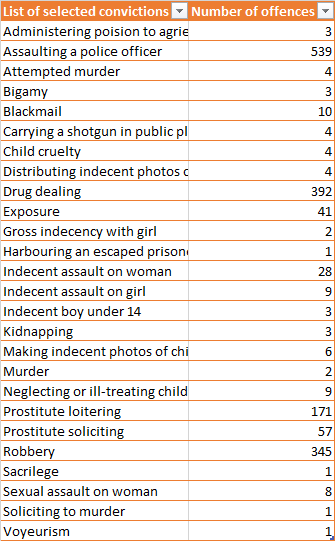 Criminal record checks reveal applicants had 22 child sex offence convictions, including two for gross indecency with a girl under 16 and 12 for indecent assault on children. Another six had made indecent pictures of children.
Two applicants had been convicted of murder, three for attempted murder and one for soliciting to murder.
We also found more than 300 drug dealer convictions; 30 of them for peddling heroin. Three were for kidnapping and another 70 related to arson.
A total of 228 convictions were for loitering or soliciting to use a prostitute.
Most convictions were for drink driving (5,815) and shoplifting (3,537).
It is unknown how many of the applicants could now be working in schools because it is up to the employer whether to give them a job.
But working with children requires an enhanced Disclosing Barring Service (DBS) check, formerly known as a CRB check. It is against the law to appoint anyone on a list of people barred from working with children.
Brian Lightman, general secretary of the Association of School and College Leaders, said: "Schools are rigorous in carrying out pre-employment checks. Practice in this area is extremely closely inspected by Ofsted.
"The majority of checks are clear. However, occasionally applicants have a conviction in their past for a relatively minor offence which was clearly an aberration. In such cases schools may still decide to employ them if they are certain there is no risk attached to this."
Schools Week obtained the figures under the Freedom of Information Act from the DBS.
We asked for the total number of people who applied for positions from April 1, 2012, to March 31, 2015, and the criminal convictions that showed up. The roles applied for included head and deputy posts, teachers and teaching assistants. The list of convictions did not include the date of the offence.
Last year, 375,449 DBS checks uncovered 5,383 convictions (1.4 per cent). It was a similar ratio for the previous year with 5,189 convictions revealed by 348,958 checks.
In the 2012/13 year there were 356,547 applications with 6,289 convictions revealed (1.8 per cent).
The figure has reduced since 2013, after new filtering methods ruled that some older and minor convictions should no longer be disclosed.
The government said at the time that while protection of children was of "paramount importance", the new checks struck a balance between protection and avoiding unnecessary intrusion into people's lives.