A team of six secondary school pupils from Kent has sped to victory in a national car engineering event.
Year 10 pupils Dean Wickes, Jack Smith, Jack Gwynne, Harry Compton all aged 14 and Lewis Moorcroft and George Plumbe aged 15, from Greenacre Academy in Chatham last week won The Car Design Challenge at the University of Greenwich.
The engineering pupils will now have their names displayed on the tailfin of the Bloodhound SuperSonic Car (SSC) car when it attempts to break the current world land speed record in 2016.
Andy Green, a Royal Air Force pilot, will try to rocket the car to its maximum potential of 1,000mph.
The 14m car weighs more than 7 tonnes, and has a Typhoon jet fighter engine that provides more than 135,000 horsepower.
The team of six became involved in the challenge when 30 of the academy's students attended a STEM (Science, Technology, Engineering, and Maths) event as part of a nationwide educational project funded by Rolls-Royce.
The team was the youngest in the competition, challenging five other teams of older students.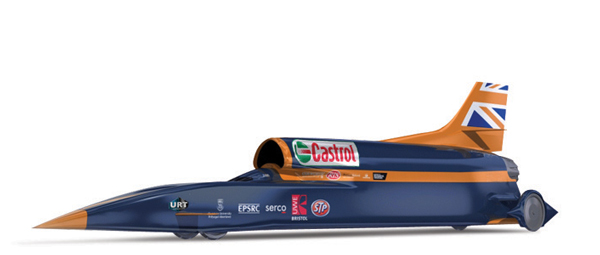 The groups did a variety of workshops, based on engineering and technology, and were then tasked to design a car based on the Bloodhound. The aim was to design and manufacture a car from a supplied kit that would travel the furthest on a single launch.
Winner from Greenacre, Harry Compton said: "We learnt a lot through the whole day, but having our names on the Bloodhound car when it smashes the land speed record across the desert is simply amazing."
While fellow winner Dean Wickes said: "There was a part of the car that we built, that needs improving, which held it back from progressing further. But never mind. I'm still ecstatic to have our names on the tailfin, its brilliant."
Gary Hake, head of Greenacre's engineering and design technology department and a former engineer, said: "We are so proud of our students and this is a massive success story for them and Greenacre.
"We are committed to enthusing and engaging young people in career oriented studies in engineering, technology and science.
"Every Monday evening in term time we have a STEM club and for the University of Greenwich's STEM event I selected 15 technology students from our STEM club and my colleague Dan McCarthy selected 15 science students.
"By 2020 60 per cent of people working in engineering will have retired, so we are passionate about training and educating the engineers of the future."
Nikki King OBE, the chairman of Greenacre Academies Trust said: "This is an incredible result for the academy and we are so proud of everyone involved."
The Bloodhound SSC team will attempt to hit 1,000mph and beat the current world landspeed record of 763mph in the South African desert in 2016.
Main pic: Competition winners from Greenacre Academy. From left: Jack Gwynne (14), Lewis Moorcroft (15), Dean Wickes (14), Harry Compton (14), Jack Smith (14) and George Plumbe (15)