A Labour government would replace Ofsted with a new inspection system involving local authorities running "health checks" on schools.
In an interview with the Observer newspaper, shadow education secretary Angela Rayner said: "We would abolish Ofsted and we would replace it with a different system… I believe Ofsted measures poverty. It measures deprivation. And I think Ofsted has to measure excellence."
Under Labour's plans, Ofsted will be replaced with a "two-phase" inspection system, which would involve local authorities carrying out "health checks" on schools and other education providers, backed up by "more in-depth" inspections by full-time, trained inspectors.
This will ensure that parents receive the "in-depth and reliable information that they need about our schools", the party said.
Under the new system, HMIs will carry out inspections "in response to concerns arising from these the regular 'health checks', or those raised by parents, teachers and governors". This means that in-depth inspections will "arise from a genuine need, instead of taking place at random", said Labour.
The party will also launch a nationwide school-led peer review improvement programme, which would be based on the London Challenge model adopted in the capital under the Blair government.
The programme would be aimed at supporting schools in "deprived areas with challenging intakes", and would be led by regional offices of the party's new National Education Service.
"In too many cases, Ofsted's judgements and grades reflect the affluence of a school's intake and the social class of its pupils – not the performance of the school," said Rayner.
"School performance is far too important and complex to be boiled down to an over-simplified single grade, reducing all schools to one of four categories.
"The current system is unfit for purpose, so the next Labour government will abolish Ofsted and replace it with a system that will give parents the reliable and in-depth information that they need about our schools."
Rayner has also pledged to introduce a new statutory definition of a school in order to clamp down on the operation of suspected illegal schools. It comes after Ofsted revealed there was confusion over current government guidance about which institutions must be registered.
The announcements come after Rayner, in an exclusive interview with Schools Week this week, confirmed the party was considering ditching the inspectorate.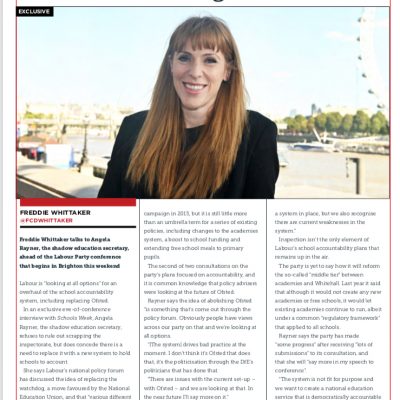 She told this newspaper "[The system] drives bad practice at the moment. I don't think it's Ofsted that does that, it's the politicisation through the DfE's politicians that has done that.
"There are issues with the current set-up – with Ofsted – and we are looking at that."
Asked what Labour might put in place instead, Rayner said: "Parents need to feel confident and I will need to feel confident that our state system is performing to the best of its ability. So we recognise we need a system in place, but we also recognise there are current weaknesses in the system."
Plans would deny parents the 'most basic info' on school choice
The proposals have sparked a mixed response across the education community.
The National Association of Head Teachers seemed supportive, tweeting: "A light-touch health-check for schools that are already good, with a more detailed focus and resources to identify and support those schools that still need to improve, is the right way to go."
But Geoff Barton, general secretary of the Association of School and College Leaders (pictured), while praising Labour for acknowledging Ofsted needs reform, said the proposed two-phased system was a "complicated answer".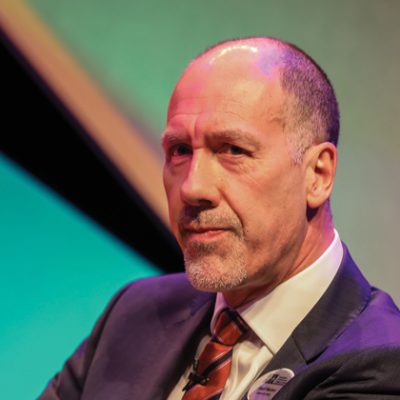 "Both tiers would require appropriate staffing, training and investment, as well as clarity about their respective roles and the trigger points for in-depth inspections.
"We all want an inspection system which works as well as possible, but the key to this is to look at how we judge performance fairly and consistently.
"This does not necessarily mean that we need to create new tiers of bureaucracy."
Schools minister Nick Gibb attacked the proposal. "Labour are clearly intent on reversing the huge improvements that have been seen, particularly for the most disadvantaged children, by ending academies and free schools. Now they want to stop parents having even the most basic information so that they can make informed choices about their children's schools.
"It's crystal clear – you can't trust Jeremy Corbyn's Labour Party with education."