The technical skills of Greig City Academy students were put to the test last week when they designed, prototyped and built projects for a 'smart city'.
The pupils, all in year 10, were taken from the first cohort of the GCSE computer science programme being taught at the school.
After plugging in their brains, the students took part in Hack Education 2015 (HackEd15), a project organised by the London Knowledge Lab.
It aimed to have the students contemplate and engage with the idea of an 'Internet of Things' , a scenario in which objects can transfer data over a network without requiring human-to-human or human-to-computer interaction, and think about the design and build of a smart city.
Dennis Earle, teacher of computer science at Greig City Academy, aided the students throughout the event. He said: "It is really about getting the children engaged with computer programming, learning how to control robots and items in the real world."
After holding preliminary workshops in January and February and coming up with ideas to address challenges they experienced or were aware of, the students got to work.
Education technologist Tony Parkin, a group mentor for HackEd15, said: "The groups were incredibly independent and self-sufficient, they all ran like a dream for the two days.
"They were all really impressive and worked stunningly."
The student projects included:
•  HandE, a glove fitted with sensors to control the home environment, from regulating the temperature of the room to controlling a TV.
•  DogBot, the concept that a robot could offer support to the visually-impaired as guide dogs do today.
• Sortbot, a coin-sorting device and a gamification approach to persuade students to gather small change usually discarded on the floor, to feed into a device as part of a points reward scheme.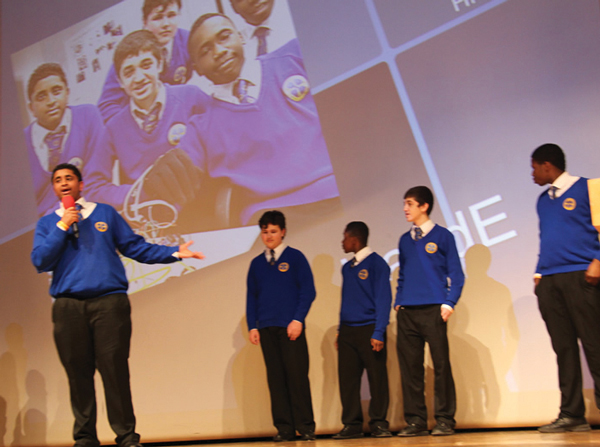 Mr Parkin added: "Everything that was feasible to solve in two days was done by the students and their projects were all of real high quality. They all hit some hard challenges but they overcame them.
"It was a fantastic opportunity for them to take things from theory and put them into practice and actually make things that do things."
The two-day event, nicknamed the 'hackathon', ended in a presentation from the students in front of an audience at the London Festival of Education held at the Institute of Education.
"Their presentations were very slick, they spoke well about their projects on the stage and it was very impressive to see it all come together," said Mr Parkin.
Main pic: Greig City Academy computer science Year 10 group at Hack Education 2015