Three entrepreneurial school teams received their first taste of business success when they won a nationwide competition headed by Dragon's Den veteran Peter Jones.
Hundreds of pupils participated in the annual Tycoon in Schools enterprise competition, run by the Peter Jones Foundation.
Since its launch in 2012, only one winner has been crowned each year. But the many outstanding applicants this year prompted the judges and Mr Jones to decide that three teams would share the title.
Speaking at the awards ceremony, hosted by the Duke of York at Buckingham Palace, Mr Jones said: "The standard was so high this year that we decided to crown not one, but three winners.
"All the teams have worked so hard and I have been bowled over by their enthusiasm and achievements throughout the competition. With thousands of students taking part, it has been the most successful Tycoon in Schools yet."
Retrocycle, a team of seven 13 and 14-year-olds from Queen Anne's School in Berkshire, addressed global waste by recycling materials. They produced and sold a range of eco-friendly products such as key rings made from old bottle tops, and bowls and coasters made from old magazines.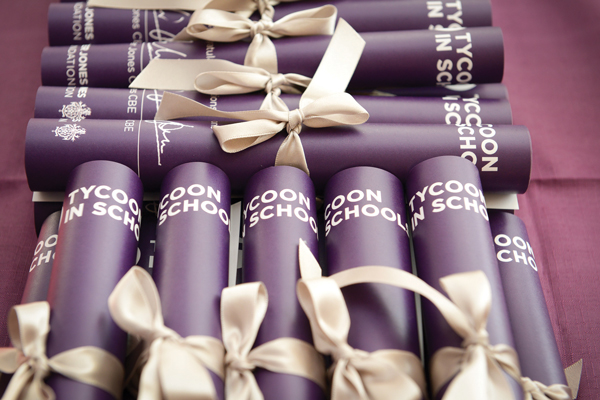 Ethical Print, seven year 10 students from Westborough High School in West Yorkshire, created a local community newsletter that promoted events and sold advertising to local businesses.
The team will distribute their profits between five charities, all of which received extensive coverage in their final newsletter.
Mount, two students from Whitley Bay High School in Tyne and Wear, created and sold hand-crafted skateboards that could double up as wall art.
The three teams each won £1,000.
Romilly Hayward, 14, of Retrocycle, said: "To be a finalist and have the amazing opportunity to visit Buckingham Palace is just the icing on the cake after an incredible journey.
"We would never have thought at the beginning of this process that we could have achieved something so amazing."
Ethical Print team member Suhail Rahim, 14, said: "During the competition we learned how to pitch an idea, how to negotiate with clients and suppliers, and how to use our time wisely. We learnt business etiquette and the approaches needed in clinching a deal."
Mount's George Peterson, 16, said: "We still can't quite believe we are winners – it's a fantastic feeling. It's a great experience taking part and the final was something we will always remember."
The judges considered profitability, teamwork, business concept, sustainability and community engagement.
Speaking about the winning teams, Mr Jones added: "Retrocycle, Ethical Print and Mount really stood out. They all excelled in each area of the judging criteria, came up with some incredibly innovative ideas, worked excellently as a team and generated some incredible profits."
Main pic: The winners of the Tycoon in Schools celebrate at Buckingham Palace with the Duke of York (far left) and Peter Jones (far right)