Broadcaster, journalist and author Clare Balding is currently touring UK schools to spread a message about self-confidence and body positivity.
Following the release of her first children's book The Racehorse Who Wouldn't Gallop, Balding hopes to bring the book's themes of "finding the Olympian within" to pupils in the state and independent schools that she is now visiting.
Speaking to Schools Week, she said: "Kids particularly are susceptible to feeling insecure and reacting extremely to what people say about them.
"I'm going to a lot of schools at the moment to take an assembly and talk to them about finding the Olympian within. A lot of the messages I'm sure are what their teachers are telling them, but it helps if somebody outside comes in and says 'don't be afraid to fail, and don't be afraid to be different'."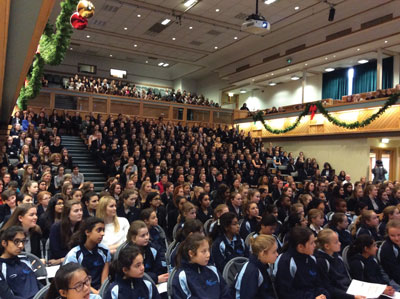 Balding – a former jockey and now a presenter on BBC Sport and BT Sport – drew upon her observations from the sporting world when she wrote her book, referencing how strong women are described physically.
"There's a big speech that Charlie's [the book's protagonist] mother gives her about having big, powerful legs, and talks about Beyoncé, Serena Williams, Angela Merkel and Hillary Clinton, who are all women with powerful legs.
"A lot of it is what I've observed in the world of sports – I see a lot of very successful, very strong women who all have a fragility about them."
One of her most recent visits was to Northampton High School where pupils from three local primaries were among those gathered to hear her speak.
Balding gave two talks during her visit, one for the junior pupils and another for seniors, which included students from the school's sixth-form.
Speaking of how the talk influenced the pupils, the school's headmistress, Dr Helen Stringer, said: "She reached every person in this building. Everyone took something away. She was able to connect with all age groups – even the staff, who were really buzzing about it afterwards."
Featured picture: Northampton school for girls headmistress Dr Helen Stringer, left, with Clare Balding