A primary in Bristol has been crowned the UK's Literacy School of the Year.
St Peter's Church of England Primary was given the award by the UK Literacy Association (UKLA), a charity that aims to raise standards in literacy, for placing the subject at the heart of the curriculum.
UKLA judges said they were impressed with the "creative flair and energy" of staff teaching the English curriculum, which had resulted in no child slipping through the net.
Headteacher Livvy Sinclair-Gieben said the school was delighted to receive the award and to "celebrate all the staff's hard work and creativity when it comes to inspiring a love of literature and reading".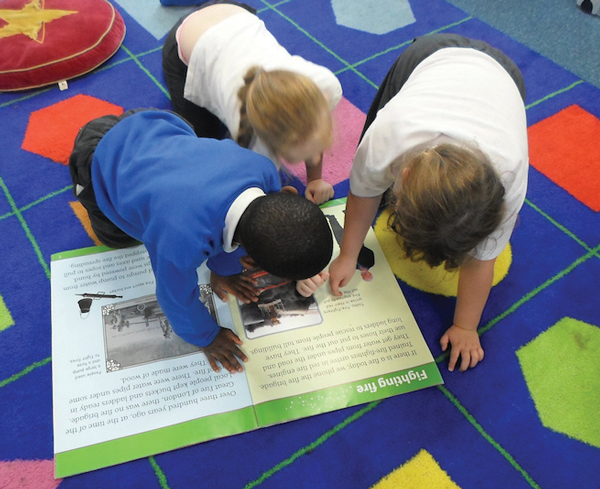 The judges said the attention to detail in displaying both reading material and children's written work was outstanding. They said each topic studied is based on a text that is introduced to the children in "exciting and innovative ways, so that children are immersed in the world of the book".
Competitions to encourage pupils to read at home are also held throughout the academic year and the school's website allows parents to access books online. The assessors were also impressed by the "skill, determination and energy of all of the adults working with children.
"The senior leadership team see teaching as a craft, and they have successfully enabled the teaching staff of the school to set and maintain the highest quality of learning and teaching."
In addition to the "wealth" of print resources, the school uses laptops, digital cameras, e-readers and tablet computers to "enhance and enrich the learning experience for children.
"For example, a professional storyteller created a story walk around the school grounds which the children could follow using geocache technology and their iPads."
Ms Sinclair-Gieben said: "We have a firm belief that literacy should be at the heart of everything we do.
"We are lucky to have so many wonderful books in school and all of our children get excited with the arrival of each new book while still greeting familiar favourites with enthusiasm.
"This recognition has meant a lot to us."
She added that being a Reading Recovery school has been "such an important part of our journey and has helped us to ensure that all of our children have the opportunity to be fluent readers".
Pics: Pupils taking part in a reading activity at St Peters Church of England Primary School