Education Secretary Nicky Morgan has this afternoon confirmed the Education Funding Agency (EFA) is to terminate its funding agreement with Durham Free School after its inadequate Ofsted rating.
Ms Morgan announced the decision to close the school in the House of Commons when asked about this morning's Ofsted report, in which it was rated inadequate across all areas.
She said the regional schools commissioner, Janet Renou, had written to the school today to inform it of the decision.
In a statement released this afternoon, Ms Morgan said: "We will not tolerate failure in our schools and it is one of the great strengths of the free school programme that we can identify and deal with it quickly in a way that is not possible in all schools.
"The Ofsted report into Durham Free School reveals that children are being let down by a catalogue of failures. It is failing to ensure children are looked after, failing to provide an environment in which children are able to learn, and failing to provide the quality of education that we expect.
"These findings come on top of a review by the EFA which identified serious concerns about financial management, control and governance.
"It is clear that this has been a troubled school for some time and there is no imminent prospect of improvement. We have therefore decided to close the school and will work with the local authority to ensure every child is found a place at another local school where they can thrive and receive the standard of education that they deserve."
The school had previously been praised by Ms Morgan's predecessor Michael Gove. In September 2013, when the school opened, he said it was "excellent" value for money and the free school was a "challenger school helping to raise standards".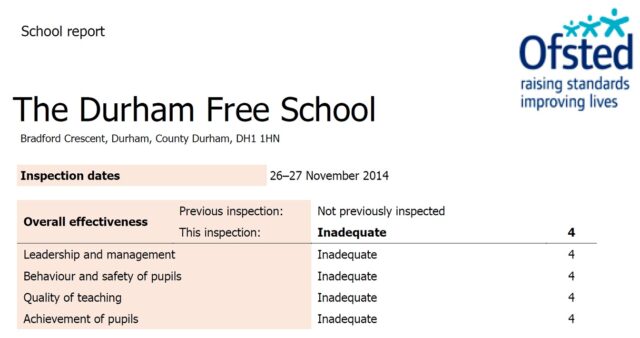 The report said achievement and assessment were "weak" and raised concerns about the school's religious studies curriculum.
Ofsted said the curriculum at the Christian secondary school, which currently has 94 pupils in Years 7 and 8, was "too narrow" and many pupils held prejudiced views of others which were not challenged by staff.
The report said: "The promotion of student's spiritual, moral, social and cultural understanding is weak. This is shown in students' lack of understanding and respect for cultures other than their own and the school is not doing enough to improve matters.
"Students' social development is also poor, with many demonstrating a limited ability to recognise the needs of others or appreciate that other students can have opinions which differ from their own. Some struggle to moderate their behaviour or take responsibility for their own conduct."
Inspectors also raised concerns that the governors were more concerned about a candidate's religious credentials, rather than track record and talent, when appointing new staff.
Ofsted was also worried about the safety of pupils on school buses saying: "Students are not fully safe when travelling to and from school because of the unacceptable behaviour of a minority of students."
It referred to incidents of after-shave being sprayed into pupils' faces, pupils not wearing seat belts and crawling under seats.
Discovery Free School was ordered to close in December 2013 after failing its Ofsted inspection.
IES Breckland, which Schools Week reported on last week, is the only free school judged "inadequate" by Ofsted that has not closed or moved to a different academy trust.
Labour's shadow education secretary Tristram Hunt said, upon hearing of the school's closure, reaffirmed the party's commitment to end the Free Schools programme.
He said: "Labour would end the flawed Free Schools programme and reverse David Cameron's decision to allow unqualified teachers in our schools.
"We will deliver a tough new system of local oversight for all state schools, with new Directors of School Standards in all areas of the country, rooting out falling standards and challenging underperformance."