The number of academies moving to a different trust has increased by almost a third in one year to reach a record high.
According to official statistics released by the Department for Education today, 255 academies moved to another trust in the financial year 2017-18, an increase of 30 per cent from 196 the year before. The number is a 1,114 per cent increase on 2013-14, when just 21 academies moved trust.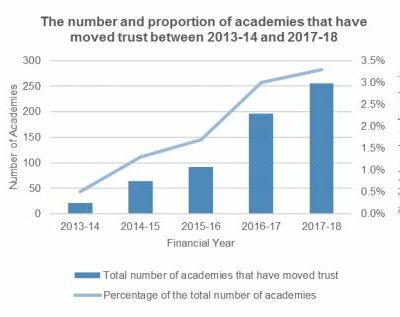 The data shows the Department for Education has now spent almost £23 million on grants for academy transfers. The total cost of the moves is likely to be far higher.
Since 2013-14, 628 academies have moved trust. This is equivalent to 3.3 per cent of all open academies in England.
Although the data does not specify the reason why each academy moved to a new trust, it usually happens because a trust is underperforming and the academy has been re-brokered by the government. An academy can also choose to move voluntarily, for example if a single academy wanted to join a multi-academy trust.
Since 2013-14, 185 of the 628 academies that have moved trusts (29 per cent) have received grant funding from the government, totalling £22,892,700.
However, the number receiving grant funding is declining each year. In 2016-17, 60 academies (31 per cent of all moving trusts) were given funding totalling £8.4 million. This year, 49 academies (19 per cent of all moving) received funding totalling £5.7 million.
This does not include funding for deficit payments, statutory redundancies, diseconomies of scale or capital costs like building works or ICT improvements.
The DfE said data on grant funding provided in 2016-17 and 2017-18 is not comparable with earlier years because of differences in what is included in the total costs.