The schools minister, Nick Gibb and former Labour leader Ed Miliband returned to their old schools as part of a nationwide campaign to inspire state pupils to academic and career success.
Mr Gibb returned to Roundhay School in Leeds as part of Back to School Week, February 1-5, run by education charity Future First.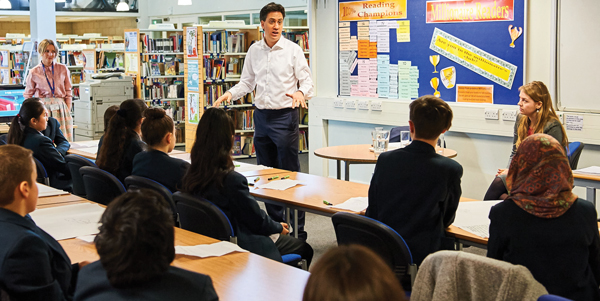 During the week, state school alumni across Britain – lawyers to doctors, plumbers to caterers, architects to zookeepers – returned to their former state school for assemblies and workshops.
Mr Gibb toured the school, sat in on a politics lesson and was shown the admissions book he signed when he joined the school.
Mr Miliband went back to Haverstock School in Chalk Farm, London, which he left in 1981, to talk to year 7 students about his career path, life as a politician and about the skills necessary to succeed in work.
"It's great to be back at my old school, Haverstock, that taught me so much," Mr Miliband said.
Main pic: Nick Gibb returned to Roundhay School for Back to School Week