The publication of findings from an independent commission set up to help teachers plan for life after levels has been delayed until September.
The Government scrapped the national levels system in September last year, saying level assessments were "distracting" and had become an "over-generalised label".
But a consultation with teachers – after the decision had been made – revealed many said the government's draft plans to replace levels were "lacking clarity, consistency and needing greater simplicity".
Schools minister Nick Gibb then launched the assessment without levels commission in February to address teachers' concerns.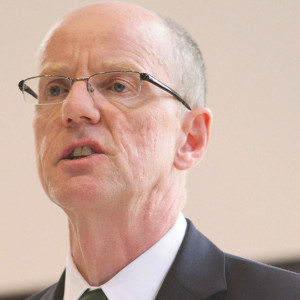 Its remit was to identify the best systems to help schools plan their own.
The report was due to be published before the end of the summer term this month. However the report has now been delayed and will not be published until September.
The delay has sparked angry responses, with deputy head Michael Tidd – a member of the Teacher Reference Group which acts as a sounding board for government policy – saying he feels "cheated" in a scathing blog.
He says the commission's findings have been passed to the government, but that it has decided to "sit on them" over the summer.
"How dare a department which has foist immeasurable change on its schools; a department which has repeatedly caused delay and confusion; a department which has continually claimed to be supportive of the profession – make a decision such as this, about such long-awaited guidance, and fail even to properly inform the profession of its actions," he wrote.
Sam Freedman, one of the commission members, also tweeted yesterday: "Before anyone shouts at us commissioners we've finished our work on it. I think they want to tie up the response with other decisions."
Schools Week asked the Department for Education (DfE) on Wednesday what day the report would be published, as there was no sign of it despite some schools already finishing for summer.
We did not hear back, but yesterday were alerted to a change on the DfE's commission webpage.
The line 'we'll publish the commission's final report and the government response in September' had seemingly been added.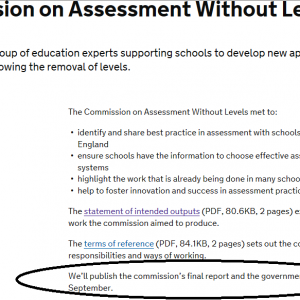 It was not there when Schools Week initially started investigating on Wednesday.
Normally changes to government webpages are sent out as alerts to subscribers, but there was no update for this apparent change.
However the commission's statement of intended outputs still reads: "The Commission will produce a final report which provides an overview of its work and outlines its recommendations before the end of the summer term, but may publish some materials sooner."
The DfE has not yet responded to a request for comment.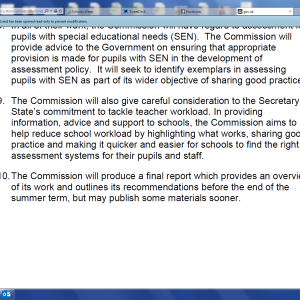 The delay comes one day after a new report was published which found that more than a third of schools are still using their old system of levels "for the time being".
The Teacher Voice Omnibus survey, carried out in November last year, found 45 per cent of schools were planning on using a new system.
A total of 2,154 senior leaders and teachers took part.
A DfE spokesperson said: "The teacher-led commission was set up to ensure schools have the most comprehensive guidance possible as they develop and implement their own assessment systems.
"The commission has finished its report and we are now considering our response, to be published in September when schools return from the summer break, to ensure future activity on assessment without levels as effective as possible."
The department will also be setting out further information about its plans for statutory primary teacher assessment in the new school year.