Fewer pupils have been entered for non-EBacc subjects this year, except in art and design which has bucked the decline and increased by two per cent.
Official government figures released this morning also show entries to EBacc subjects have soared, especially in the sciences.
A larger cohort of pupils means there are more overall GCSE entries this year (5.1 million) up by around one per cent compared to 2017.
However, EBacc entries increased by five per cent, while non-EBacc entries decreased by 13 per cent compared to last year.
Subjects with the largest drops included physical education, which went from 112,550 entries down to 87,825 (a 20 per cent drop), while performing/expressive arts entries reduced from 14,950 to just 8,795 (a 40 per cent drop).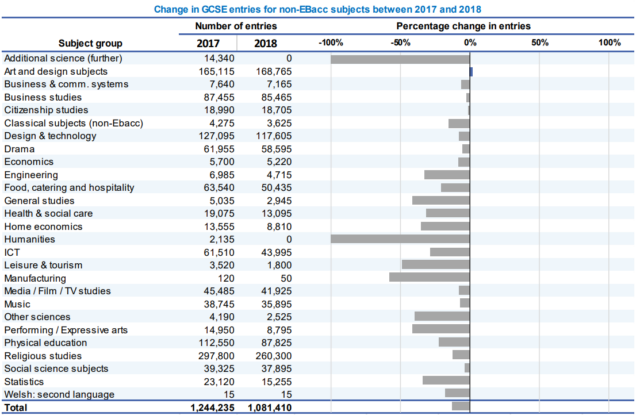 Other decreases were mostly in vocational subjects such as manufacturing, engineering and leisure and tourism.
Meanwhile, entries to all sciences rose dramatically – including a 25 per cent increase in entries for chemistry GCSE.
Ofqual said the boost was due to the introduction of reformed separate sciences and combined double science – with other options, such as additional science, now removed.
The exams regulator said the Progress 8 and Attainment 8 measures were "likely to be influencing these patterns" as only a maximum of three non-EBacc subjects can be counted towards the eight subjects included in the measure.
Entries were mostly from year 11 students, though entries from both year 11 and year 12 and above increased slightly in 2018 compared to 2017. Entries from year 10 and below continued to fall.
Paul Whiteman, general secretary of school leaders' union NAHT, said: "It is now impossible to argue that the EBacc measure is not having a narrowing effect on young people's choices at GCSE.
"These reforms put schools in an impossible situation where they must reduce the opportunities they offer to pupils in order to satisfy an arbitrary government target.
"The government needs to answer the question about whether their reforms to secondary qualifications are really meeting the needs of students and giving them a realistic chance to succeed in a post-Brexit world."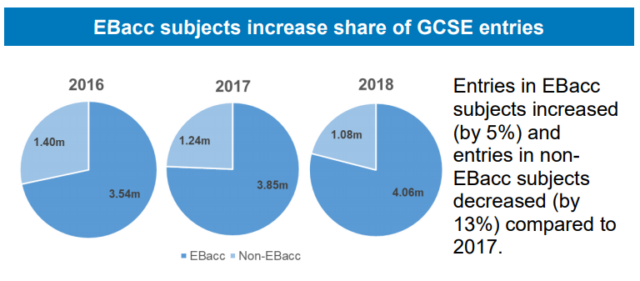 *Graphs and tables from Ofqual