Two schools in Barnet, north London, joined forces earlier this year to develop the relationships between disabled and non-disabled young people through art and music.
A multi-arts programme by the charity Create brought together students from mainstream Whitefield School and Mapledown special school.
During January the students worked with artist Daniel Lehan to build sculptures around the theme of order and disorder.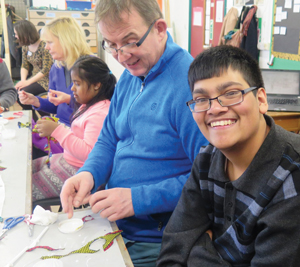 In February, they produced pieces of music inspired by their sculptures with guidance from Create's professional musicians, Luke Crookes and Claire Hoskins.
Sarah Hurrell, teacher and arts co-ordinator at Mapledown, said: "This has been an invaluable project allowing our students the freedom and knowledge needed to create and express themselves.
"It has also allowed them to develop their social interaction skills with both their peers at Mapledown and with students in a mainstream setting."
Pics: Students from Whitefield and Mapledown, including Dwayne Lawrence and Sakuni Wathsala, above, work together on their Create project