Plans by 16 grammar schools to open up access to poorer pupils in exchange for a share of an annual £50 million of expansion funding will still leave them "lagging behind" comprehensives, a Schools Week investigation has revealed.
Announcing the £200 million investment over four years on Monday, Damian Hinds, the education secretary, said that "countless more children from disadvantaged areas will benefit from places at outstanding schools".
But analysis by Schools Week shows that the targets set by each of these 16 grammars will still fall short of the percentage of disadvantaged pupils in their local authority.
Parents will be dismayed that at a time when schools are sending round the begging bowl for basic equipment and school resources, some institutions are being singled out for favoured treatment
Our investigation also reveals that most of the schools have already received capital funding handouts this year, and many have boosted pupil numbers since 2013 – one by more than a third. Ofsted has rated only four as outstanding.
Dr Mary Bousted, the joint general secretary of the National Education Union, said the expansion fund, launched after plans to scrap the ban on new grammar schools were shelved, was a "dishonest measure".
"The Conservatives are playing politics with children's education and parents will be dismayed that at a time when schools are sending round the begging bowl for basic equipment and school resources, some institutions are being singled out for favoured treatment, including some who have already received capital funds this year," she said.
The Department for Education named the first 16 successful bidders on Monday. They all have agreed to admit more disadvantaged pupils through recruitment targets, a lower 11-plus pass mark or both.
Disadvantaged admission targets still fall short
Analysis by Schools Week found that of the nine grammar schools that set specific recruitment targets for children eligible for the pupil premium, none is aiming to meet the average rate for its local authority.
For example, Wolverhampton Girls' High School, where 7.6 per cent of pupils receive the pupil premium, wants to increase that to 11 per cent. However, 41.6 per cent of pupils in Wolverhampton receive the premium.
Queen Mary's Grammar School and Queen Mary's High School in Walsall have a pupil premium rate of 8.6 per cent and 14.6 per cent respectively, and want to increase that to 30 per cent. But in Walsall more widely, 40.3 per cent of pupils are eligible for the premium.
Colchester County High School wants to increase its pupil premium rate from 3.4 per cent to 10 per cent, but that falls well short of the 22.4 per cent of pupils eligible in Essex.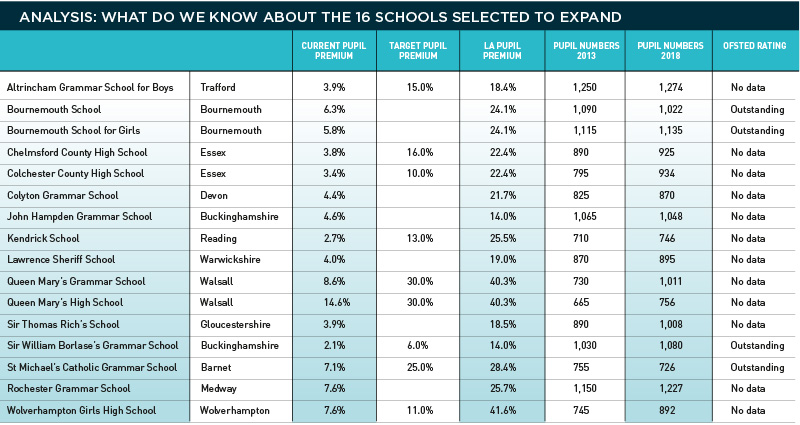 "The idea that these grammar schools will turn into beacons of social mobility is absurd," said Dr Nuala Burgess, chair of the anti-selection campaign group Comprehensive Future.
"They've set themselves targets for disadvantaged pupils that still see them lagging far behind genuine community schools."
Trudi Young, the head of Wolverhampton Girls, defended her school's plans, which she said went further than a recruitment target.
"We aim to open doors to our school by winning hearts and minds," she told Schools Week.
"In the past year we welcomed more than 500 pupils to our familiarisation sessions and outreach activities held on site. We are excited by the opportunities now presented to be able to extend this programme even further, offering a greater number of places to girls to join this outstanding school."
Just four actually rated 'outstanding'
Despite Hinds' claims, only four of the 16 schools have up-to-date Ofsted inspection ratings. The remaining 12 are academies that have not been inspected since they converted up to seven years ago.
Despite not counting in public records, their previous inspection grade still informs when Ofsted will revisit schools; those rated outstanding are currently exempt from reinspection.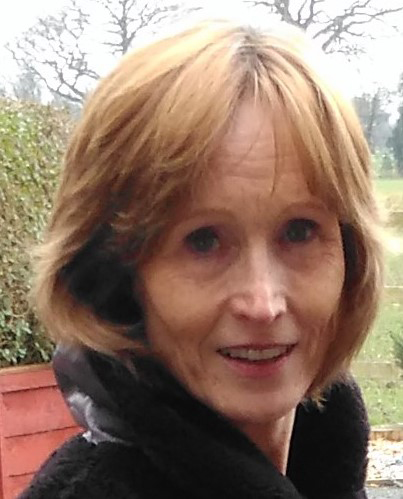 "Most of the schools haven't been inspected for years, there seems to be an assumption the quality of education in these schools must be good, simply because these schools select pupils," Burgess said.
Nine of the schools have already received money to improve their sites this year.
Altrincham Grammar School for Boys, Colchester County High School, Colyton Grammar School, John Hampden Grammar School, Kendrick School, Lawrence Sheriff School, Queen Mary's Grammar School, Queen Mary's High School and Sir Thomas Rich's School all received money from the government's condition improvement fund (CIF) for 2018-19.
Grammars have in the past used CIF cash, which is mainly for keeping school buildings in an acceptable condition, to build whole new classrooms, Schools Week has previously reported.
In July, Nick Gibb, the schools minister, announced that grammar schools would no longer be allowed to use CIF funding to expand, although they could still get the cash to improve the condition of buildings or address overcrowding.
Grammars have already boosted numbers
Most of the schools have also increased their pupil numbers over the past five years.
Queen Mary's Grammar School lifted its 730 roll in 2013 to 1,011 in 2018, an increase of 38.5 per cent. Pupil numbers at Wolverhampton Girls' High School increased by 19.7 per cent from 745 to 892 over the same period, while numbers at Colchester County High School increased by 17.5 per cent from 795 to 934.
Three of the schools, however, have fewer pupils than in 2013.
Jim Skinner, the chair of the Grammar School Heads' Association, said he hoped further increases in the proportion of pupil premium pupils at the selected schools would be achieved "over time".
"The key context here is the big gap, I'm afraid, in the overall achievement of pupil premium youngsters.
"Certainly by doing outreach work and lowering pass marks, the whole aim is to help address that problem, but there's a lot of other things that need to happen nationally to close the achievement gap."
It's easy to have a 'cheap pop' at grammars
Skinner also defended the investment in selective schools, adding that the CIF funding already awarded was a "separate pot of money".
"If schools have got significant building condition problems, new boilers or whatever, it's appropriate that, whatever type, they have equal access.
"It's quite easy for people to have a cheap pop and say this is special money for grammar schools, but we, as much as anyone, are pushing hard for the general funding for schools to increase."
He said the £200 million funding was a "very small percentage" of the government's overall budget for creating new school places, and insisted it was "entirely appropriate" that "just like other good and outstanding schools, selective schools are funded to expand".
Hinds added: "I have always been clear that selective schools will only be able to expand if they meet the high bar we have set for increasing access for disadvantaged children, and all of these schools have done that."